Environmental Sustainability
By design, supply chain solutions from Noatum Logistics go hand-in-hand with environmental sustainability initiatives. For example, shipment consolidation, distribution optimization, and electronic documentation all can reduce fuel consumption and waste. That means, in addition to better bottom-line results, your supply chain could very well leave a smaller footprint on the environment.
Noatum Logistics promotes social responsibility, waste reduction and conservation across our daily operations. In addition to traditional and inventive recycling efforts, we are on a continuing path to reduce energy consumption within our facilities.
---
Services and the Environment
Our services will help you achieve a more efficient supply chain with a smaller impact on the environment.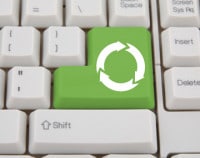 Electronic documentation:
Global shipment management system cuts paper waste with online resources to coordinate shipment details in a paperless environment, manage and store documentation, receive electronic shipment status updates, and analyze shipment lifecycles.
Purchase order management tools streamline purchase order processes, increase coordination with vendors, provide online document management, and generate higher efficiencies.
Transportation considerations:
Consolidation of small shipments maximize container/truck utilization.
Modal shifts which fit customer's needs, such as converting airfreight to ocean freight or using rail for shipments over 750 miles, can reduce fuel consumption.
Identifying partner carriers that utilize energy-efficient equipment and processes.
Distribution optimization:
Productivity studies identify ways to eliminate waste and incorporate lean distribution processes
The number and location of warehouse facilities bring inventory closer to customers, trimming transportation miles
Cost-efficient delivery routes reduce empty miles.
Efficiencies in the workplace:
Conference calls, webinars, videography and online communication tools decrease the level of travel necessary to maintain the appropriate level of communication with customers
Balance scorecards identify best practices and speed their adoption throughout the company.
---
Facilities
Conservation begins at home. Our world headquarters in Overland Park, KS is located on one of the most environmentally responsible business campuses in the country and is LEED certified. Some of the eco-friendly features of the campus include:
Wind energy powers up to 80 percent of campus needs
Water recapture and recirculation pond recycles water for irrigation
Restoration of wetlands and natural landscape dedicates 60 percent of the campus to green space
Landscaping for shade, including the planting of more than 6,000 trees, reduces energy use for cooling
Comprehensive composting program converts food waste, cardboard and other compostable matter into useful by-products
Preferred parking for drivers of hybrids or carpoolers encourages reduction of GHG emissions among employees
As good corporate citizens, our sustainability initiatives extend throughout our network of facilities:
Warehouse lighting converted to low-wattage lamps/fluorescent tubes reduces energy use
Sun optics double prismatic skylights in distribution facilities
Built-in sensors automatically shut off lighting if no movement is detected or when sufficient natural light is available
Fan and ventilation systems provide effective alternatives to air conditioning.
Increased building, wall and roof insulation and high efficiency HVAC equipment
We also have put in place recycling, reducing, reusing and disposal process, such as:
Plastic recycling program collects and bales discarded stretch wrap and plastic bottles, reducing waste (and waste management costs) and earning cash back for the baled plastic
In addition to office paper, stretch wrap, oil, antifreeze, cleaning solvents, tires, and batteries, Noatum Logistics recycles aluminum, steel and unusable cardboard dunnage
Pallets are reused when possible
Electric forklifts replace propane-powered units
Warehouse dock doors feature door seals to improve insulation
---
Affiliations
SmartWay Transport Partnership: This voluntary program between various transportation industry sectors and the federal Environmental Protection Agency addresses key national concerns to improve energy security and energy savings. As a SmartWay Charter Partner, Noatum Logistics actively encourages both its customers and transportation providers to join the SmartWay partnership.
Carbon Footprint Modeling
Noatum Logistics received the Environmental Excellence Award from the United States Environmental Protection Agency (U.S. EPA) SmartWaySM Transport Partnership for its efforts to help customers reduce greenhouse gas (GHG) emissions.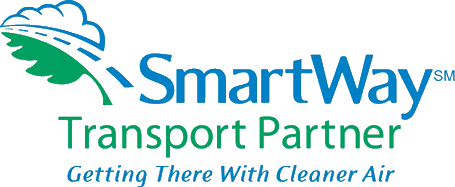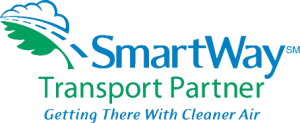 The U.S. EPA developed the Shipper Fleet Performance Model to help shippers estimate GHG emissions over the road and on the rail.
With this model, Noatum Logistics can help customers analyze the affect of their transportation strategies on the environment and determine if changes in the strategies might lower emissions. For example, would different routes or modes of transportation reduce emissions? Can freight consolidation or rethinking of the shipper's network design make a difference?
Working together, shippers can more efficiently find ways to offset the environmental impact of their supply chains and still meet their cost and service goals.
---
Demonstrating Good Citizenship
Demonstrating Good Citizenship is one of the six core values, which serve as the foundation for Noatum Logistics. With paid time off for volunteer activities, our teams participate in numerous environmental initiatives in our communities such as waterway clean-up efforts and Earth Day activities.