Consumer Electronics
The old adage is that you can't have all three – speed, quality and price. Noatum Logistics understands that for those managing a supply chain in the high tech and consumer electronics industry, you indeed need all three to stay competitive. Today's accelerated product life cycles require adaptive supply chains that can reduce cycle times so that products reach their markets as quickly as possible. Global outsourcing and global outlets call for quality solutions that deliver control and flexibility, while minimizing risks throughout the supply chain. And with the industry's competitive pricing pressures, the winners are those who can build cost efficiencies into their supply chains and find opportunities to lower costs. Noatum Logistics offers a broad portfolio of flexible global logistics services to support the challenges facing supply chain managers in the high tech and consumer electronics sector.  In addition, our approach steps you through the progression of design, implementation, execution and continuous improvement, frequently revealing additional ways to create value within your operations.
---
Global Services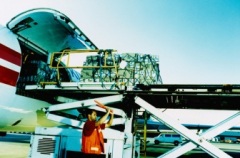 With services in and between all major international trade lanes and an infrastructure that can deliver seamless end-to-end solutions, Noatum Logistics gives your supply chain a consistently high level of control all around the world.
Air, ocean and sea-air freight forwarding capabilities
Assistance negotiating rates and securing capacity – even during peak season
Supply Chain Management Technologies
Manufacturing, warehousing and transportation activities all run more efficiently when you have real-time visibility to product.  Noatum Logistics invests in leading-edge technologies to give you the data you need to add speed to your supply chain and ensure superior customer service.
Vendor Managed Inventory
Daily (line level) Replenishment (

JIT

)
Purchase order management
Shipment forecasting
Global track and trace
Serial number captures
Distribution Services
The Noatum Logistics warehouse management processes and oversight can help you reduce inventory levels, improve the turn rate, lower distribution costs and shorten delivery lead times.
Inventory management
Customized order fulfillment
Cross dock
Merge in transit
DC bypass
Value-added Services
Whether at the point of origin or destination, Noatum Logistics value-added services can give you the flexibility to respond to customer-requested or market-driven changes with speed and quality.
Postponement services
Retail and/or consumer kitting
Packaging, re-work and repackaging