Consumer Products
It's all about optimization. From production to point of sale, supply chains in the consumer goods industry need to be cost effective while still responsive to customer needs.
Noatum Logistics works with customers to address the competing pressures of tight margins and customer service excellence. We'll help you optimize your supply chain processes, such as ordering, picking, loading, unloading and transportation operations, to satisfy both your customers and your CFO.
Our global operations and end-to-end supply chain solutions can streamline your flow of goods while you remain flexible to ever-changing consumer demand, including the need to ramp up, decrease or redirect inventory.
The leading-edge technologies deployed at Noatum Logistics give you the ability to leverage real-time product visibility, making it possible to constantly monitor and accurately adjust product flow as you coordinate with suppliers and customers.
We've shown industry leaders in health and beauty, food and beverage, paper goods, and cleaning supplies how to gain efficiencies in their operations with our flexible, creative solutions.
In addition, we also count big-box retailers on our customer list, which means we understand their processes and can apply what we know about their standardized requirements to your business for better scorecard results.
Our approach steps you through the progression of design, implementation, execution and continuous improvement, frequently revealing additional ways to create value within your operations.
---
Global Services
Experience flexible, seamless service and shipment visibility from the point of origin, while in transit, and at the destination.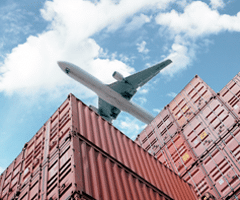 Distribution Services
Optimize your distribution management strategies by lowering transportation costs, sorting and sequencing shipments, and improving warehouse operations.
Inventory Management
DC bypass
Value-added Services
Save time and money while you prepare your product for your retail customers with comprehensive services handled right at the warehouse.
Custom crating
Labeling
Pick & pack
Re-packaging

Kitting

Light assembly
Display shipper
Samples
Specialized product identification
Quality assurance
Supply Chain Management Technologies
Track activities from supplier compliance and ordering to product delivery, for the data you need to add speed to your supply chain and deliver superior customer service.
Vendor-managed inventory
Shipment forecasting
Serial number captures
EDI communication