U.S. Customs Automated Commercial Environment (ACE)
Update on ACE Air Manifest Rollout – The U.S. Customs and Border Protection (CBP) is mandating the use of the Automated Commercial Environment (ACE). There are two deadlines to be aware of: the first deadline is November 1, 2015, which is the beginning of the transition period for using ACE for all electronic cargo release and related entry summary filing. The second deadline is February  28, 2016, which is the mandatory use date of ACE for all remaining electronic portions of the CBP cargo process, as ACS will no longer be available.
ACE will provide a single access point for the trade community to report imports and exports to the U.S. government. The intent of ACE is to reduce manual processes, eliminate the use of paper, and improve compliance with U.S. laws and regulations. Noatum Logistics is working to implement ACE on behalf of our customers, and we are providing a central source for information on this topic.
See more details about the ACE Mandatory Use Dates on the CBP website.
Additional ACE Resources:
---
Pro's / Cons
ACE capabilities cover Manifest, Cargo Release, Post Release, Export and Partner Government Agencies (PGAs)
As of February 28, 2016, all electronic cargo releases/entries and their related entry summaries can only be filed in ACE. This requirement includes Partner Government Agency (PGA) data required at time of entry and/or entry summary, including supplemental data required to effect release. On this date, electronic entries and related entry summaries will no longer be accepted in the legacy Automated Commercial System.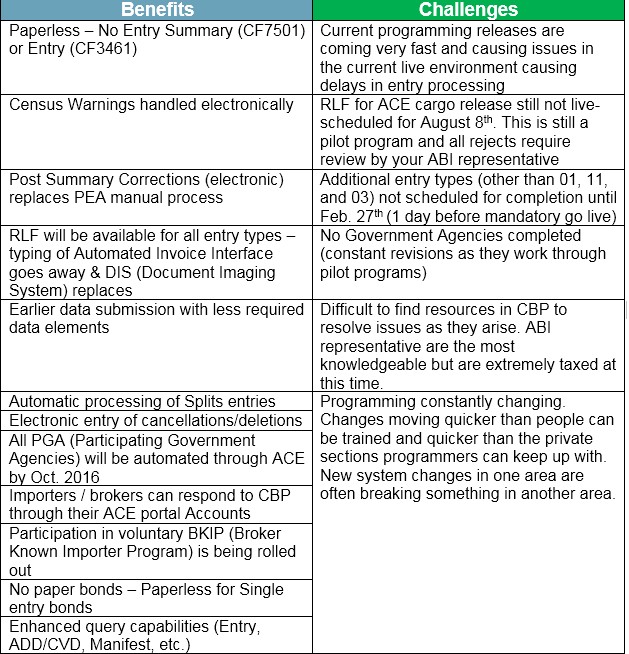 ---
CBP's CSMS Messages
CBP ACE and Automated Systems webpage
CBP has IT releases weekly. This section will keep you informed of the outage schedules and any issues that affect our ability to process entries timely.
CSMS#16-000083 – RESOLVED: Network Issues affecting CBP ACE Manifest Portal, February 5, 2016 – 02/05/16
CSMS#16-000081 – Network Issues affecting CBP ACE Manifest & Portal, Friday, February 5, 2016 – 02/05/16
CSMS#16-000076 – UPDATE: ACE Cargo Release Status Notification SO70 Format Issue – 02/03/16
CSMS#16-000073 – ACE PRODUCTION deployment Wednesday 2/3/2016 0600 ET, impact ACE Cargo REL & Entry Summary – 02/02/16
CSMS#16-000067 – Date CORRECTION: ACE Production Outage, Sat. 1/30/16 from 2200 to 0400ET Sunday 1/31 – 01/29/16
CSMS#15-000953 – ACE Production Deployment, Saturday, December 19, 2015 from 2200 – 0400 ET – 12/18/15
CSMS#15-000949 – PGA FDA Med Device Reject-ACE Certification Deploy Wed., 12/16/2015 2100 ET, Impact AE & SE – 12/16/15
CSMS#15-000946 – Use of CBP Form 3461 – 12/16/15
CSMS#15-000944 – ACE Certification deployment this evening, December 15, 2015 at 0800 pm ET – 12/15/15
CSMS#15-000940 – ACE Production AE Deployment, Tuesday, December 15, 2015 at 0600-0615 ET – 12/14/15
CSMS#15-000937 – ACE Production Emergency Break-Fix Deployment, December 14, 2015 at 1330 – 1345 ET – 12/14/15
ACE in the News:
---