Canada Cross-Border Shipping Services
Noatum Logistics offers superior cross border logistics services including Canada border shipping services. Our customs clearance services both Northbound to Canada and Southbound to the U.S. can support all of your cross border shipping needs.
Canada Cross Border Shipping Services Include:
Reduce stress and cost to serve. Tap into our experienced team of supply chain professionals. Our team can offer you:
Overseeing entire U.S. / Canadian border customs process through our cross border control tower
Customs entry filing for both imports/exports going Northbound or Southbound into Canada and the U.S.
Fast processing of bonded shipments, document transmission and inspection facilitation
ACE (Automated Commercial Environment) fully implemented for all cross-border southbound shipments offering clearance through one Noatum Logistics location which provides consistent, compliant transactions
Management tools provided for timely visibility of your U.S. & Canada Customs duty / GST processing
Tiered customs entry fees based on frequency of entry count per month
Classification Consultancy and Audit services available
Advantages:
Noatum Logistics can simplify and facilitate each step of the cross border clearance process, helping your team realize:
Ease-of-Engagement – With 24/7 cross-border availability
Experienced staff – Focused on the elimination of in-bond movement reducing costs for in-bond fees and storage
Priority Clearance – Noatum Logistics can affect priority clearance on our customers' shipments because of our affiliated brokerage status
Problem Resolution – Expedited response resolution coupled with route cause analysis and action plan implementation
Northbound: U.S. to Canada
---
 Southbound: Canada to U.S.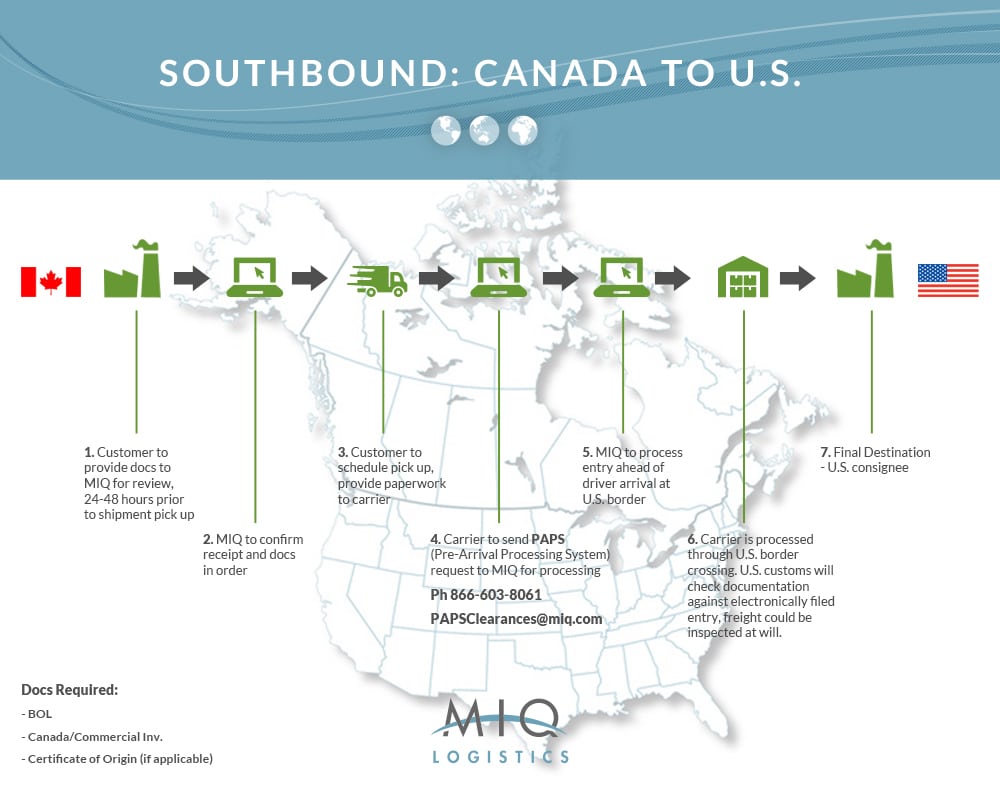 ---
CONTACT US
Contact us via our contact form or at + 1 866-603-8061 to learn more about Noatum Logistics Cross Border
PARS Processing (Northbound to Canada): +1 866-603-8061
PAPS Processing (Southbound to USA): +1 866-603-8061