Industrial Manufacturing
Noatum Logistics is helping industrial manufacturing customers look to their supply chains for new ways to manage costs, build cash reserves, streamline processes, improve products and increase their resilience to unplanned disruptions.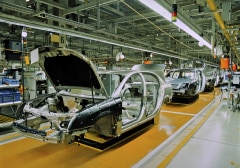 Working with customers in the automotive, aerospace, machinery and steel sectors, we're helping them improve their position against competitive threats and responding to customer demands for better service.
The Noatum Logistics global network puts trusted resources into action where you need them – in established as well as emerging markets throughout Asia, Europe, Latin America and North America.
Then, our integrated solutions provide the visibility and control over your products' transportation, distribution and import/export processes to improve your supply chain's flexibility and reliability, and ultimately reduce the need for expedited services.
Drawing on our extensive service capabilities, our logistics professionals will design, implement, execute and continuously improve upon supply chain solutions that fit your business needs.
---
Solution Design
By first gaining an understanding of your business we begin to understand where processes are breaking down or costing more than they need to. This guides us in designing a solution that's right for your business.
Network analysis and redesign
Supply chain optimization
Continuous improvement opportunities
Global Services
Noatum Logistics provides services in and between all major international trade lanes with local in-country expertise and technologies that ensure shipment visibility from the point of origin, while in transit, and at the destination.
Air, ocean, sea-air
Global trade management/compliance
Customs brokerage
PO management
Cross border services
Origin consolidation
Vendor compliance
Distribution Services
Our global warehouse and distribution capabilities can support your inventory management strategies for reducing cost of goods and meeting JIT timelines.
Warehouse management & fulfillment
Flexible warehouse space
DC bypass
Inventory management
Value-added Services
To help you streamline your operations, our logistics centers are prepared to quickly handle a number of activities, saving you time and expenses.
Kitting
Pick & pack
Light assembly
Materials management
Packing and crating
Project Logistics
Unique situations require specialized solutions. Noatum Logistics has the expertise and capabilities to handle supply chain needs that fall outside of standard logistics services
Heavy lift & out-of-gauge transportation
Purchase order expediting
Transportation of oversize shipments
Physical inventory control
Technology
We continually invest in technologies to improve our customers' access to useful, accurate and timely information which enhances decision making and customer service.
Real-time track and trace
Supply chain visibility tools