Regulatory Updates:
AN ACTIVE MONSOON MOVES ACROSS INDIA, MUMBAI FLOODED
A monsoon has covered the entire country of India. Delhi, Mumbai, Rajasthan, Madhya Pradesh, Himachal Pradesh, Uttarakhand, and Kerala are observing rain and thundershowers. Read more
STRIKES CONTINUE IN CHENNAI AS U.S. LABOR UNIONS UNITE (HOPEFULLY) AVOIDING A POTENTIAL LOCKOUT
Owners of trailers carrying containers to Chennai Port, Kattupalli Port and Kamarajar Port went on strike on Monday demanding an 80% hike in hire charges. Read more
AUTOMATED EXPORT SYSTEM UPDATES FOR NO LICENSE REQUIRED (NLR) FILINGS
Response Code 66Q in the Automated Export System (AES) will transition from "Compliance Alert" to "Fatal" on July 13, 2022, this will be a considerable upgrade to the system which hopefully will alleviate some supply chain issues. The Response Message 66Q was initially deployed on January 13, 2022 for exports filed under the license type "C33: No License Required (NLR)".  If a filer selects License Type C33, they are subject to the terms, provisions, and conditions described in the Export Administration Regulations (EAR) in 15 CFR Parts 730-774. Read more
FURTHER SUPPLY CHAIN RISKS AS WE ENTER PEAK SHIPPING SEASON
For the past ten days, the International Longshore and Warehouse Union (ILWU) has kept 22,000 dockworkers throughout the West Coast on the job without a contract after their previous deal expired July 1. Meanwhile, the ILWU is carrying out talks with the Pacific Maritime Association (PMA), in which the Biden administration is heavily involved. Behind the scenes, the ILWU is working diligently with the port operators to ram through a sellout contract. Read more
SUPPLY CHAIN RISKS AS WE ENTER PEAK SHIPPING SEASON (UPDATED)
Multiple sources directly involved in the ongoing West Coast longshore labor negotiations believe that a deal will be reached in August or September, despite there being several difficult issues yet to be resolved.  "The two sides continue to meet and negotiate," said Gene Seroka, executive director of the Port of Los Angeles. "Both have seasoned negotiators at the table, and each understands their importance to the US economy. I am optimistic that we will have a contract in good order and cargo will continue to flow." Despite many stakeholders being optimistic, risk remains due to assumptions that major issues can be resolved through negotiation. Read more
Industry News:
U.S. PORTS SET ANOTHER RECORD AS VOLUME REMAINS HIGH AND WEST COAST LABOR CONTRACT TALKS CONTINUE
WASHINGTON – Imports set another record high this spring as the nation's major container ports worked to reduce congestion and retailers stocked up before dockworkers' West Coast labor contract expired, according to the monthly Global Port Tracker report released today by the National Retail Federation and Hackett Associates. Read more
TRANSPACIFIC EASTBOUND GENERAL RATE INCREASE (GRI) AND PEAK SEASON SURCHARGES (PSS)
Announced levels for upcoming Transpacific Eastbound GRIs and PSSs from carriers can now be accessed anytime from our MIQ.com – Resources – Information and Tools page. Read more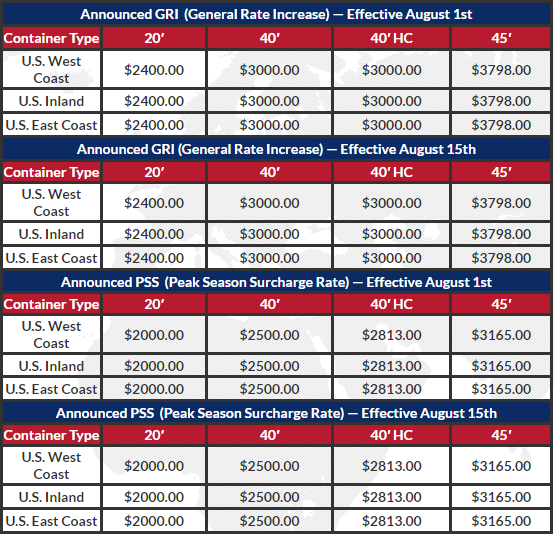 Careers at Noatum Logistics USA
It is an excellent time to consider a career at Noatum Logistics USA!  As a multi-faceted worldwide organization, Noatum Logistics USA offers a variety of opportunities for our employees around the globe. Our employees, a true competitive advantage, make a difference for our customers every day.
Noatum Logistics, a leading player in the global logistics industry, currently has openings in the following U.S. locations: Los Angeles, CA, Buffalo, NY, Chicago, IL, Houston, TX, Jamaica, NY, and Miami, FL. View our current openings here and apply today!