Institute for Supply Management
Economic activity in the manufacturing sector expanded in April for the 28th consecutive month, and the overall economy grew for the 71st consecutive month, say the nation's supply executives in the latest Manufacturing ISM® Report On Business®.
The report was issued today by Bradley J. Holcomb, CPSM, CPSD, chair of the Institute for Supply Management® (ISM®) Manufacturing Business Survey Committee. "The April PMI® registered 51.5 percent, the same reading as in March. The New Orders Index registered 53.5 percent, an increase of 1.7 percentage points from the reading of 51.8 percent in March. The Production Index registered 56 percent, 2.2 percentage points above the March reading of 53.8 percent. The Employment Index registered 48.3 percent, 1.7 percentage points below the March reading of 50 percent, reflecting contracting employment levels from March. Inventories of raw materials registered 49.5 percent, a decrease of 2 percentage points from the March reading of 51.5 percent. The Prices Index registered 40.5 percent, 1.5 percentage points above the March reading of 39 percent, indicating lower raw materials prices for the sixth consecutive month. While the March and April PMI® were equal, both registering 51.5 percent, 15 of the 18 manufacturing industries reported growth in April while only 10 industries reported growth in March, indicating a broader distribution of growth in April among the 18 industries."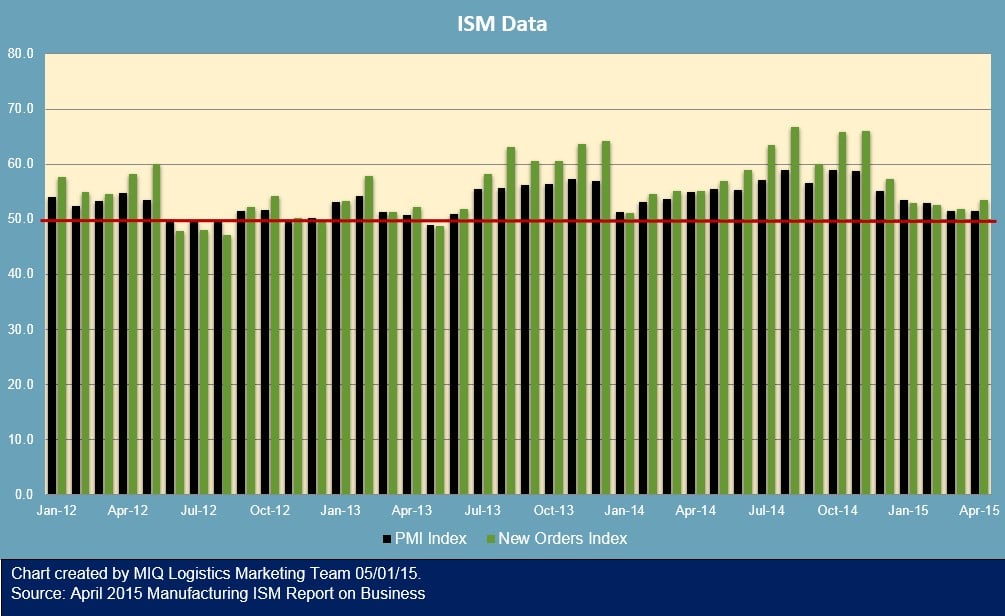 Click here to access the entire release from the Institute for Supply Management.