Source: American Trucking Associations
American Trucking Associations' advanced seasonally adjusted (SA) For-Hire Truck Tonnage Index rose 2.9% in January, following a 4.3% decrease during December. (December's index was revised up from our press release on January 24, 2017.) In January, the index equaled 138.8 (2000=100), up from 134.9 in December. The all-time high was 142.7 in February 2016.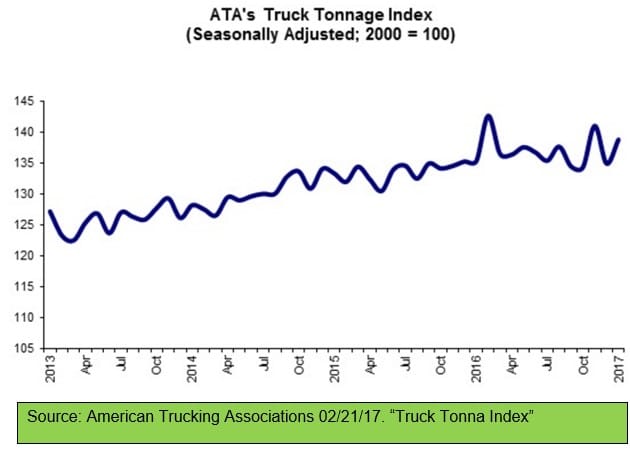 Compared with January 2016, the SA index increased 2.6%. In December, the index fell 0.2% on a year-over-year basis. For all of 2016, tonnage was up 2.5%.
ATA recently revised the seasonally adjusted index back five years as part of its annual revision.
The not seasonally adjusted index, which represents the change in tonnage actually hauled by the fleets before any seasonal adjustment, equaled 131.6 in January, which was 1.8% below the previous month (133.9).
"The freight economy is starting to show some signs of life and January's truck tonnage numbers are a good step forward," said ATA Chief Economist Bob Costello. "Hopefully the ups and downs in truck tonnage during 2016 will not be as pronounced in 2017.
"Looking ahead, the most recent positive sign for truck tonnage is the large drop in the inventory-to-sales ratio during December. The decrease putinventories throughout the supply chain, relative to sales, to the lowest level in two years. There is no doubt that the inventory glut was a drag on truck freight volumes last year," he said.
>> Click here to access the entire release from the American Trucking Associations.