American Trucking Associations
American Trucking Associations' advanced seasonally adjusted (SA) For-Hire Truck Tonnage Index increased 6.5% in May, following a 1.5% decline during April. In May, the index equaled 144.1 (2000=100), up from 135.3 in April.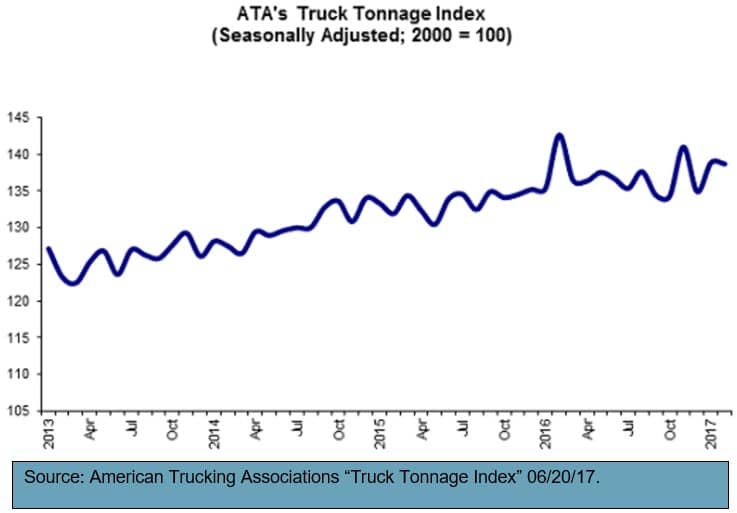 Compared with May 2016, the SA index increased 4.8%, which was the largest year-over-year gain since November. In April, the index contracted 0.8% on a year-over-year basis. Year-to-date, compared with the same five months in 2016, the index is up 0.9%. For all of 2016, tonnage was up 2.5%.
As part of this report, ATA also revised its April decline in the index downward to a 1.5% dip from a previously reported 2.5% drop.
The not seasonally adjusted index, which represents the change in tonnage actually hauled by the fleets before any seasonal adjustment, equaled 145.3 in May, which was 8.5% above the previous month (134).
"After three straight declines totaling 2.6%, truck tonnage snapped back in May," said ATA Chief Economist Bob Costello. "One month does not make a trend, but the nice gain last month fits more with the anecdotal reports I've been hearing from fleets, at least more so than three straight months of decreases.
"Despite the robust jump in May, I still expect moderate growth going forward as key sectors of the economy continue to improve slowly," he said.
>> Click here to read the entire release from the American Trucking Associations.