Source: Cass Information Systems, Inc. 
Both the Shipments and Expenditures Indexes extended their run of positive comparisons. Shipments turned positive eight months ago, while Expenditures turned positive seven months ago. In part because of normal seasonality, and in part because of more difficult comparisons, they were less strong in July.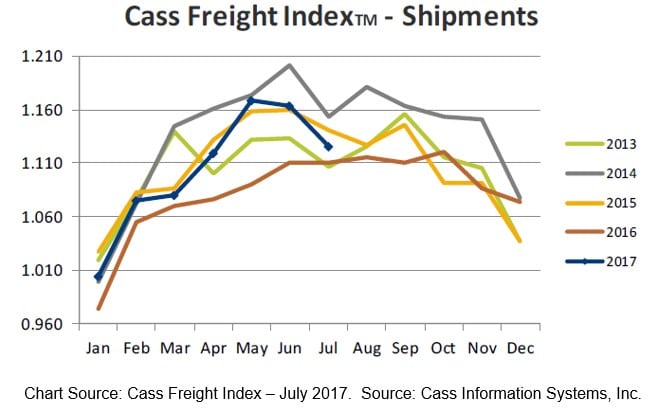 Throughout the U.S. economy, we are continuing to see a growing number of data points suggesting that the economy continues to get incrementally better. Some data points are simply less bad, a few of them are much better (airfreight, DAT Barometer), but some are suggesting deceleration (rail). The 1.4% YoY increase in the July Cass Shipments Index is yet another data point which confirms that the first positive indication in October (before the election) was a change in trend. In fact, it now looks as if the October 2016 Cass Shipments Index, which broke a string of 20 months in negative territory, was one of the first indications that a recovery in freight had begun.
>> Click here to access the entire release.