North American shipment volume and expenditures dropped for the second month in a row as the summer slowdown hit. The drop in freight spending was sharper than expected, however, as truck spot prices fell lower due to abundant capacity. The decline in shipments did not follow the typical upward movement in August, but given the weak level of new manufacturing orders placed in June and July it is not unanticipated. GDP growth was strong overall during the first half of the year, with a 3.7 percent growth rate in the second quarter and a 0.6 percent growth rate in the first.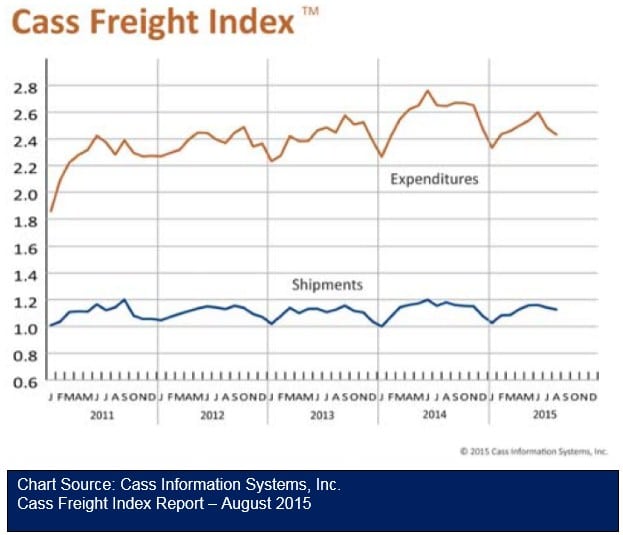 Shipment Volumes
The number of freight shipments fell 1.2 percent in August on the heels of a 1.2 percent decline in July. The August decline is a diversion from the normal pattern we see at this time of year. Generally, retailers are stocking up for fall sales, but high inventories and a rising inventory to sales ratio slowed ordering earlier this year. Inventory levels—for retail, wholesale and manufacturing—are well above the high point prior to the inventory drawdown at the beginning of the Great Recession. Inventories have been climbing during a period of low inventory carrying costs. Interest rates have been the lowest in recent history, warehouse space was abundant and lease rates low, and taxes and insurance costs were flat. From mid‐2010 to early 2014, the inventory to sales ratio, which measures inventory turnover, remained very steady around 1.27. It has risen 10 points in the last 18 months, an increase of 6.2 percent. The average for the last decade, including during the recession period, is 1.30. Railroad traffic rose modestly, with carload traffic up 2.7 percent and intermodal up 3.5 percent. The latest data available from the American Trucking Associations for truck tonnage showed a drop of 0.8 percent in July. The Institute for Supply Management's August PMI index showed a decline of 3.1 percent, while the Production subindex fell 4.3 percent. New orders were down 2.9 percent, but on the positive side, the backlog of orders rose 9.4 percent. New orders for consumer goods were down; it's hard to tell if this is a sign or simply that there is already enough inventory to satisfy consumer needs. New export orders dropped 3.2 percent as our goods continue to be relatively more expensive in world markets because of the high value of the dollar relative to other currencies. Also, the economic difficulties being experienced in China—our largest trading partner outside of North America—have reduced the amount of exports we have been shipping there. Freight shipments should rebound in September as goods begin to arrive for the holiday season.
Freight Expenditures
Freight expenditures declined 2.0 percent following suit with the drop in the number of shipments. As August is typically a slower month for freight, capacity is generally not a problem and better rates can often be found on the spot market. Spot market prices were lower in August, contributing to the decline. The expected pickup in freight shipments in September should drive overall freight expenditures back up. Rates will remain flat for the most part, as trucking companies forgo rate increases to keep their best customers.
Overall Picture
Although activity continues to be slower than last year, it's still much better than we have seen in other recent years. Despite many headwinds, the transportation sector continues to grow and prosper, largely because consumers are back in the marketplace. The Conference Board's Consumer Confidence Index leapt up in August, rising 11.5 percent. Those surveyed felt good about the current situation in terms of employment opportunities and household income. The recent growth in jobs creation and the drop in gas prices have strengthened consumers' belief that the economy is prospering. Retail sales were up in July, the latest month for which figures are available. Industrial production weakened throughout most of 2015, but picked up again in June and July—a sign that things may be turning around for domestic production and sales. Exports will probably not rebound before the end of the year. The strong dollar is curbing sales to an already weak global market. U.S. farmers are holding on to their harvest because of low prices, so this could also impact exports negatively.
>> Click here to access the full Cass Freight Index Report for the month of August from Cass Information Systems.