The December Cass Freight Indexes followed expected seasonal trends with a 6.3 percent drop in shipment volume and a matching 6.7 percent decline in freight spending. However, the December figures mark the highest end ‐of‐year values for both indexes since the beginning of the recession in 2007.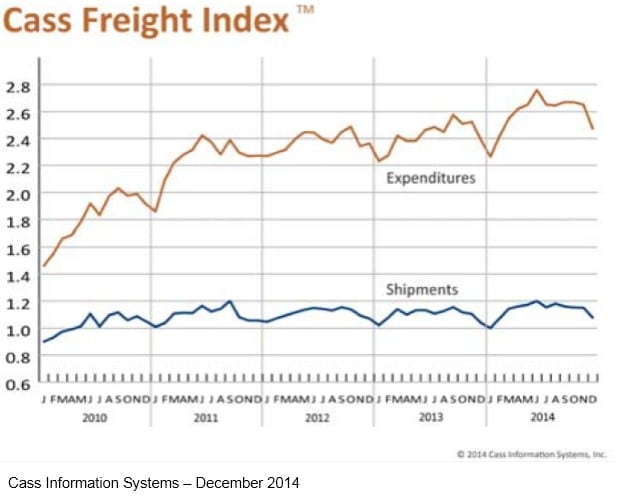 SHIPMENT VOLUMES
The number of North American freight shipments fell 6.3 percent in December, but was still 4.0 percent higher than the same period a year ago. Slumping retail sales, which dropped 0.9 percent in December according to the National Retail Federation, contributed to the decline in freight shipments as restocking was not needed. Fourth quarter 2014 freight shipment volume was the strongest since the start of the recession in 2007. Despite the difficulties getting goods out of the ports of Los Angeles and Long Beach due to labor and capacity issues, both railroads and trucking companies posted shipment volumes that were significantly higher than for the same period in 2013. But the port problem did lead to an increased usage of air freight, which made substantial gains during December. Holiday sales discounting started early, effectively eliminating the traditional Black Friday/Cyber Monday jumpstart of the holiday shopping season. The National Retail Federation reported that holiday sales rose 4 percent, the biggest growth since 2011. Online sales were up close to 14 percent over the same period in 2013.
FREIGHT EXPENDITURES
The December freight expenditures index declined 6.7 percent, reflecting the drop in shipment volume and weaker spot prices. Falling diesel fuel prices continue to lower freight costs. Additionally, the decline in volume relieved much of the pressure on capacity, which pushed down both the demand for trucks on the spot market and spot prices. December 2014 expenditures are 3.6 percent higher than the corresponding month in 2013. Contract rates have been rising as carriers gain more pricing control, allowing them to pass on their increased costs, especially those for drivers. The ATA revenue per mile index jumped 6.0 percent in November compared to November 2013, which was much higher than the 3.6 percent year ‐over‐year increase seen in the first ten months of 2014. Most of the rise occurred during the fourth quarter, as the ATA reported a 5.0 percent gain in revenue per mile for truckload carriers. Spot pricing was more volatile and generally higher during the second and third quarters when demand was somewhat higher.
>> Click here to access the entire Cass Freight Index Report.