Source: Cass Information Systems
Both the Shipments and the Expenditures Indexes have now turned positive. Throughout the U.S. economy, there is a growing number of data points that suggest that the worst is over and the economy is getting better. Some data points are simply less bad, but an increasing number of them are better, and even a few are becoming outright strong.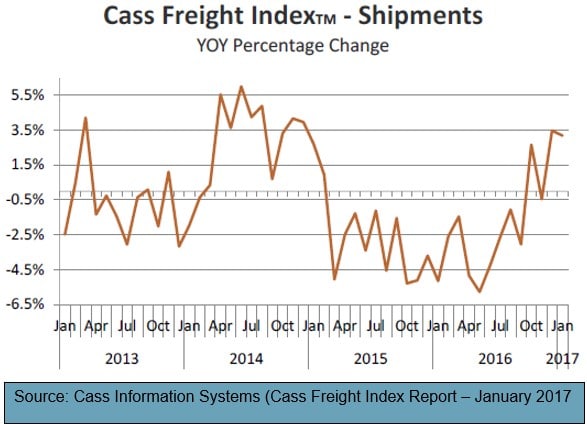 The 3.2% increase in the January Cass Shipments Index is yet another data point which strongly suggests that the first positive indication in
October may have indeed been a change in trend. In fact, it now looks as if the October index, which broke a string of 20 months in negative territory, was one of the first indications that a recovery in freight had begun in earnest. Data is suggesting that the consumer is finally starting to spend a little, and that with the surge in the price of crude (back above $50 in October), the industrial economy's rate of deceleration first eased and then began a modest improvement led by the fracking of DUCs (drilled but uncompleted wells), especially in the fields with a lower marginal production cost (i.e., Permian and Eagle Ford). How fast will the recovery be from here? That is yet to be seen. However, the overall freight recession which began in March 2015 appears to be over.
As was true last month, the sequential month pattern looked a bit more ominous, but doesn't give us great cause for concern. There is normal seasonality at work, and we are continuing to get daily reports of stronger shipment volume in almost all modes from both hard data sources and industry anecdotes. It also looks far less troubling when compared to the seasonality in 2013, 2014 and 2015. Not only was January 2017 higher than last year, but it was stronger than January 2014 and almost as strong January 2015, both of which fell further from higher summer/fall peaks.
>> Click here to access the entire Cass Freight Index Report – January 2017.