Cass Information Systems, Inc. 
Freight shipments and expenditures edged up in June after three months of lackluster performance. For the first five months of 2016, U.S. exports were down 6.9 percent compared to 2015, while imports were down 5.2 percent for the same period. These obviously had put a damper on freight performance. GDP growth was 1.1 percent for the first quarter of 2016, slower than the 1.4 percent growth rate in the fourth quarter of 2015. The Federal Reserve Bank of Atlanta's GDPNow model predicts second quarter GDP of 2.3 percent. The huge jump in employment in June is mostly for service sector jobs. There was virtually no change in transportation, construction, manufacturing or warehousing employment in June. Manufacturing was beginning to stir back to life with positive growth in production and new orders, according to the Institute for Supply Management's PMI Indexes.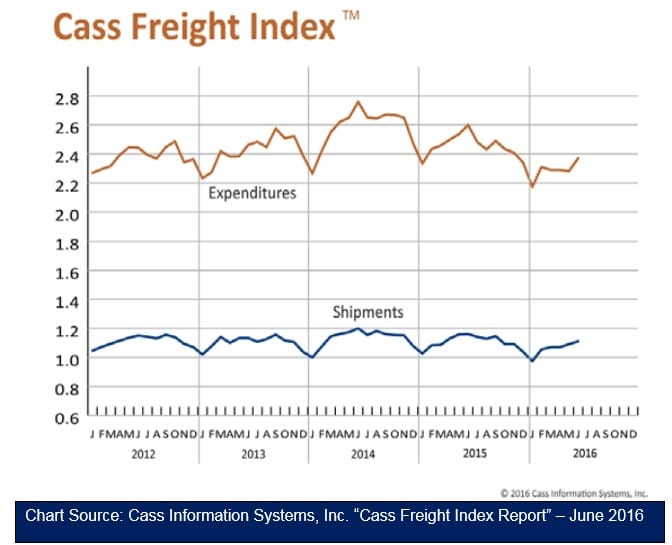 Shipment Volumes
The June freight shipments index climbed 1.7 percent. This was 4.3 percent below last year and 7.6 percent lower than June 2014. Stores are already stocking school supplies, which accounts for some of the rise. After particularly slow traffic in April and May, the Association of American Railroads reports that carload shipments rose 29.3 percent and intermodal shipments jumped 23.4 percent in June. The ATA reported that May truck tonnage was up 2.7 percent. DAT reported that spot market loads increased 28 percent in June—indicating that truck tonnage should be up in June also. June's shipments are in step with patterns that have been observed in the past few years, but are still well below the volume in the last two years. July usually sees a dip in the number of freight shipments, but the first part of July seems to be fairly robust.
Freight Expenditures
Total freight expenditures jumped 3.9 percent in June—the second largest increase this year. Most of this increase can be attributed to the growth in shipments. June 2016 is still 8.8 percent below June 2015. DAT reported that both volumes and rates were up for most spot market moves. Abundant available truck capacity has provided strong competition for rail intermodal, holding down rates for both. With the relatively slow and bumpy freight market so far in 2016, rates should stay flat with expenditure changes tied closely to the volume of freight shipments.
Overall Picture
The first half of the year's economic performance has been perplexing. Consumer spending has been growing, although the effect on freight is small as most of this increase has been in the service sector (which hired 256,000 new workers in June). Inventories are mostly unchanged at uncomfortably high levels, but the inventory-to-sales
ratio fell in April for the first time in over a year. Exports and imports are down, residential and commercial construction has been slowing, and consumer spending on goods is weak. That said, the manufacturing sector is awakening with a 3.9 percent growth in production, 2.3 percent increase in new orders and an 11.7 percent growth
in order backlog. The Federal Reserve recently decided against another interest rate hike, citing "considerable uncertainty" in the U.S. economic outlook and "vulnerabilities" from abroad. While the second quarter was stronger than the first, the mixed signals in the air make the third quarter uncertain.
Click here to access the entire Cass Freight Index Report for June.