North American shipment volume and expenditures rose again in March as shipments picked up significantly from the West Coast ports. The U.S. and global economies did not grow as much as expected in the first quarter, but freight movement in the U.S. continues to strengthen.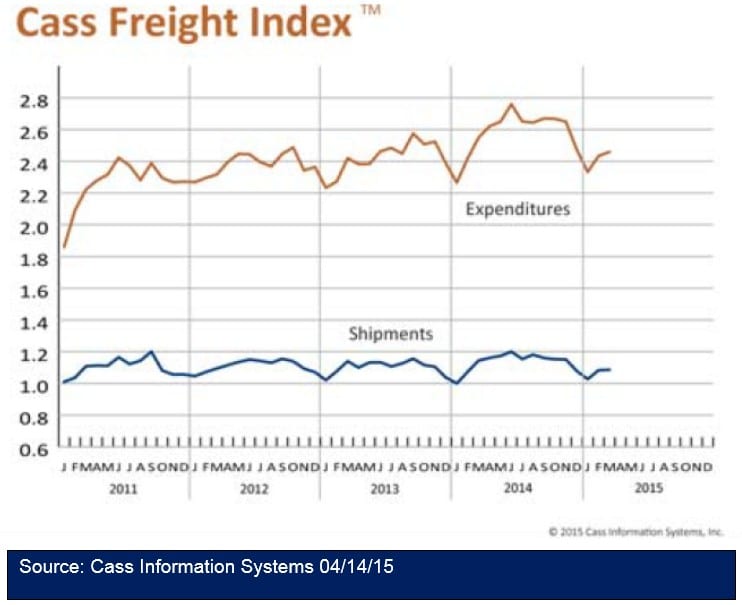 Shipment Volumes
The number of shipments inched up 0.3 percent in March, but is 5.1 percent lower than the same month a year ago. Railroad shipments were up 4.2 percent for carload traffic and 12.6 percent for intermodal, after falling in February. Truck shipments were down in February (the latest month available), largely due to bad weather in most of the country. However, the DAT Solutions spot market freight volume indexes, rose 34 percent in March compared to February. DAT also reported that freight availability had declined 28 percent in March. And the Institute for Supply Management's (ISM) PMI report for March delivered the same message: "The only commodity in short supply during March is trucking services." The ISM's PMI Index fell again in March ‐ the fifth drop since October 2014, resulting in an 11.1 percent decline during that period. The good news is that the Production index inched up slightly, although looking to the future the New Orders index has been trending downward throughout the first quarter. The reported backlog of orders contracted in March after expanding in February. Global economic conditions continue to erode new export orders, which have been falling since December 2014. The labor problems on the West Coast contributed heavily to lower imports, which have fallen for two consecutive months. April is usually the start of the spring shipping season, and the upturn in March for both rail and truck signals improved conditions ahead.
Freight Expenditures
Freight expenditures rose another 1 percent in March, following a 4.3 percent increase in February. March payments are 3.5 percent lower than they were in the same month last year, but 2014 experienced a banner month by comparison. Rates are rising, especially as capacity tightens in many markets. DAT Solutions reported that van rates were up 2.8 percent, flatbeds up 2.8 percent and reefers up 1.7 percent. Furthermore, DAT noted that monthly average rates have increased year over year for more than 20 consecutive months. Rate increases are taking hold and the expected growth in freight in the second quarter will put more strain on a freight distribution system that is having difficulty supplying enough capacity.
Overall Picture
First quarter freight volumes were affected by labor problems, slowdowns and work stoppages at West Coast ports; extreme winter weather throughout much of the country; and a slowdown in the global economy. The ports are now dealing with fallout from the labor issues – both good and bad: the Port of Portland in Oregon had two of its biggest container carriers, HanJin and Hapag ‐Lloyd, drop the port because of slow and unpredictable service stemming from protracted union labor issues. Other ports around the U.S. have been reporting higher container shipments as carriers try other options. After a rough few months, freight volumes overall were building strongly toward the end of the quarter. With that growth, we will see rate increases that may outpace the growth in volume.
>> Click here to access the entire Cass Freight Index Report.