Source: Cass Information Systems, Inc. 
Consistent with what many in the industry have been calling a "more than normal fall surge" in volumes, the Cass Shipments Index was up on a YOY basis for the first time in 20 months. We have seen a wide range of results in the different modes: from continued volume growth in parcel and airfreight driven by e‐commerce, to a sequential improvement in truck tonnage, to less bad rail and barge volume overall. Although it is far too early to make a 'change in trend' call, data is beginning to suggest that the consumer is finally starting to spend a little and that the industrial economy's rate of deceleration has eased. Simply put, the winter of the overall freight recession we have seen for over a year and a half in the U.S. may not be over, but it is showing signs of thawing.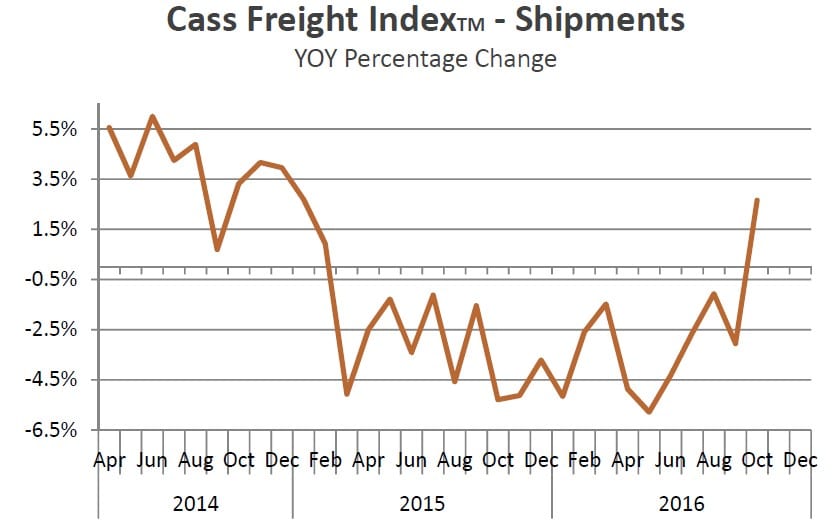 Although still in negative territory, the Cass Expenditures Index continues to also give us a glimmer of hope. Expenditures (or the total amount spent on freight) were still down (‐3.8% on a YOY basis), but the rate of contraction appeared to be 'less bad' as it only contracted 3.8% (much less than the rates of contraction in May, June, July, and August; which were down 10.1%, 8.8%, 5.1%, and 6.3% respectively). We see this increase as a result of the steady rise in the price of fuel over the last six months, but we are seeing some improvements in pricing power of truckers and intermodal shippers. As an example, the proprietary Cass Truckload Linehaul Index (a price index which does not include fuel) only fell 1.4% on a YOY basis in the month of October, which was far less than the 3.5% decline it posted in September. The proprietary Cass Intermodal Price Index (which does include fuel) faired even better, increasing 0.4% in October, which was also not only better than September's 0.7% decline, but marked the first YOY increase after 21 consecutive months of decline.
We should also remind readers of a fundamental rule of marketplaces, volume leads growth. Repeatedly we have watched in a host of different markets, volume goes up before pricing starts to improve and volume goes down before pricing starts to weaken. Even in markets as basic as the weather, the number of hours of sunshine starts to decline long before the temperature starts to fall. As we approach the shortest day of the year in the northern hemisphere (December 21st), we know that the coldest temperatures are still coming in the months of January and February, weeks after the volume of sunshine will actually have started to improve.
What specifically drove October volumes?
Parcel volumes associated with e‐commerce continue to show outstanding rates of growth, with both FedEx and UPS reporting strong U.S. domestic volumes in the most recent quarter reported by each, up 10.0% and 5.2% respectively. According to the proprietary Avondale Partner's index in the most recent month available (September), airfreight has also been showing some improving strength with the Asia Pacific lane jumping 7.5% and the Europe Atlantic lane growing 4.7%.
>> Click here for access to the Cass Freight Index Report (October 2016).