North American shipment volume and payments were up for the third month in a row. While first quarter GDP was an anemic 0.2 percent, it is not representative of the freight moving in the nation. Both the railroad and truck sectors reported increased loads in April. The strength of the U.S. dollar is boosting imports but hampering exports.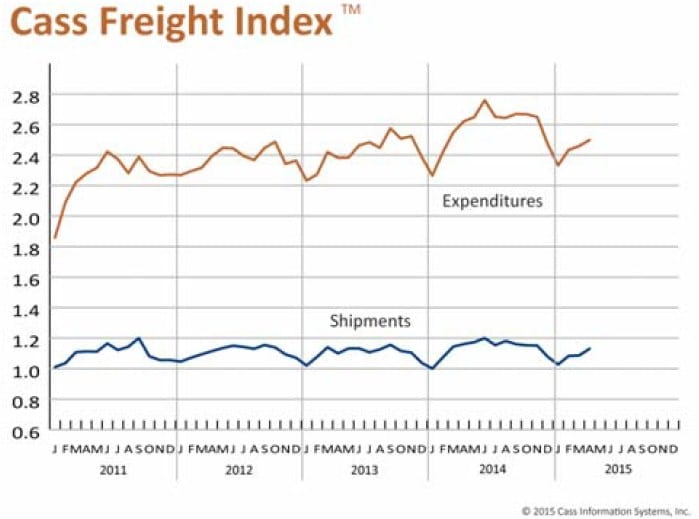 SHIPMENT VOLUMES
The number of North American freight shipments jumped 4.2 percent in April but was still 2.5 percent lower than the same month a year ago. Railroad shipments picked up substantially in April, with carload traffic up 25.6 percent and intermodal up 27.6 percent. Truck shipments reversed the decline reported in February and were up 1.1 percent in March (the latest month available). Although the April jobs report was the lowest it has been all year, transportation employment was up ‐ with the majority of those jobs in truck driving. Production was soft in the first four months of 2015, but factory orders rose 2.1 percent in March after seven months of decline.
A 13.5 percent jump in transportation equipment orders was responsible for much of the turnaround. Consumer confidence is at its highest level in eight years, which is contributing to improved numbers for the retail sector. U.S. imports were up 9.1 percent in March (the latest month available) and are forecast to continue to grow. Consumer goods accounted for more than half of all imports in March. U.S. demand is rising at a time when the strong dollar makes foreign goods more attractive and when countries with struggling economies such as China have been discounting their goods to increase sales.
FREIGHT EXPENDITURES
Freight expenditures increased 1.6 percent in April. April payments are 4.7 percent lower than they were in the same month last year. The trend for the first six months of 2014 was a large digression from the average for the last five years. After being suppressed for several years, spending and the number of shipments grew 15.6 and 15.8 percent respectively in the first half of 2014. The first four months of 2015 have not followed a similar trend. Freight spending is growing at a slower rate than the growth in shipment volume, indicating that there has not been much movement in rates. In fact, spot rates in April were actually running close to or below contract rates. The drop in fuel prices has eroded fuel surcharges, which has contributed to lower rates. Capacity is still not much of a factor, so other than rising labor costs, there is not much pressure on rates.
OVERALL PICTURE
Like the first quarter in most of the last five years, last year being an exception, the economy got off to a slow start in 2015. Growth is expected to continue and pick up throughout the rest of the year. Manufacturing should perk up in the coming months as demand increases. With the strong dollar, raw material prices are lower for imported materials. Although capacity is not a problem, many companies have already announced increased levels of capital investment to update and improve plant and equipment. Although construction spending slipped in March, first quarter 2015 spending is 3.2 percent higher than the same period a year ago. Drops in drilling and energy exploration accounted for a significant portion of the drop in non‐residential construction. With warmer months ahead, construction should pick up steam. The global economic picture is not as strong as the U.S. picture, so exports will continue to be weak.
>> Click here to access the entire Cass Freight Index Report.