Following nearly two years of increased duties/tariffs related to many retaliatory programs, aimed at unfair trade practices, as well as escalating costs via air, ocean rail and truck many importers are seeing an ever-increasing hit to their cash reserves. The volume and timing of cash outlays outpaces their cash inflows from their clients paying on terms. Managing cash flow is often the first area of focus each day for importers.
U.S. Customs and Border Protections does have a solution that is designed to improve cash flows called Periodic Monthly Statement (PMS). PMS is processed through their Automated Commercial Environment (ACE) ACH program and allows importers to consolidate their payment of duties and taxes into twelve (12) interest-free monthly payments vs paying on a transaction-by-transaction bases. These 12 monthly payments are all paid on the 15th business day in the month following importation, giving importers on average 36 days of cash flow. Customs Periodic Monthly Statement Fact Sheet provides additional information about the program.
Joining the PMS program provides many operational and financial advantages including:
Consolidated Payment of Duties and Taxes – 12 Interest-Free Payments Annually
Secure Electronic Payments
More working capital with the extended cash flow provided
Fully meet obligations for importer payment of duty regulations 19 CFR 141.1
Streamlines accounting and reporting processes
Reduces internal accounting costs
Fewer Transaction costs
Reduces reconciliation time
Automation – the process of payment is automated through ACE
Importer can select a National Statement or Port Statement
Active monthly visibility of your duty spends
Published schedule for payments
If you are interested in Participating in the PMS Program then you've made a great choice and the process is very simple.
Complete and submit the CBP ACH Application to receive your payor unit number (PUN).
Notify your Noatum Logistics account rep and we will request PMS Activation for you.
Once accepted into the PMS Program Noatum will schedule a meeting to walk you through the process further and identify a start day for when entries will start being flagged so you can begin taking advantage of the program.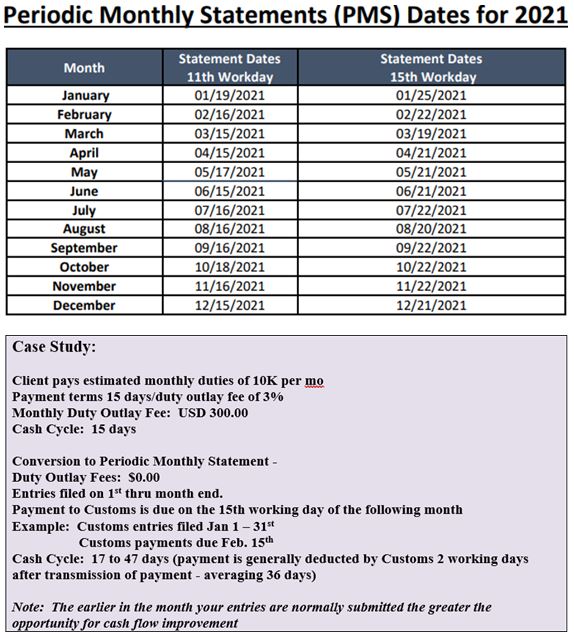 If you have any questions, please contact your Noatum Logistics representative.