"The modest rise in the Leading Economic Index in October follows the strong advances recorded in the prior two months, which helps lift the six-month annualized growth rate to 5.1 percent from 3.7 percent in the previous six months. The recent increase in the index supports our forecast that the U.S. economy is poised to grow somewhat faster at 2.3 in 2014 compared to 1.6 percent in 2013. Within the details, the sub-indexes contributing positively to growth are the financial, housing and manufacturing variables. Restraining growth is the ongoing caution of businesses that continue to keep tight reins on capital expenditures."
– Kathy Bostjancic Director of Macroeconomic Analysis at The Conference Board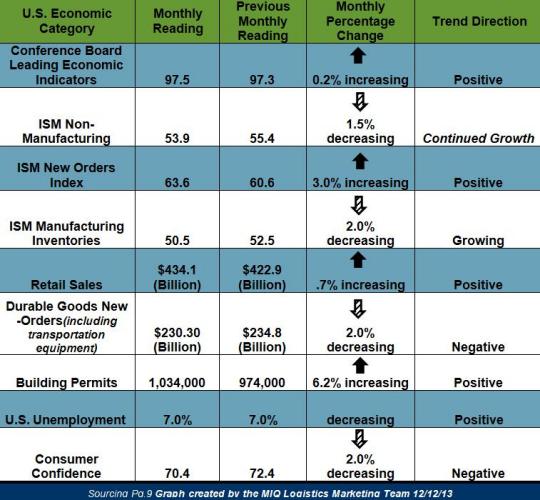 Institute for Supply Management (ISM) Manufacturing Report on Business
Economic activity in the manufacturing sector increased again in November
50 represents the dividing line between expansion and contraction for the index of the below chart; which covers the Purchasing Managers Index (PMI) and new orders.
The PMI reading increased to 57.3% in November, which is the highest reading in 2013; the previous reading in October was 56.4%.
New Orders increased in November by 3.0%; which raised the reading to 63.6%.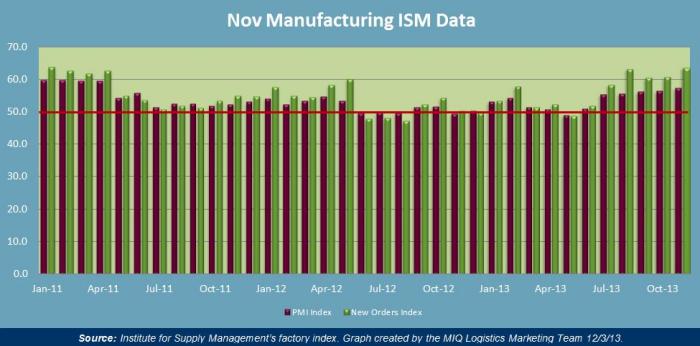 Expanding Manufacturing Industries
Plastics & Rubber Products
Textile Mills
Furniture & Related Products
Primary Metals
Food, Beverage & Tobacco Products
Paper Products
Printing & Related Support Activities
Petroleum & Coal Products
Miscellaneous Manufacturing
Electrical Equipment Appliances & Components
Transportation Equipment
Chemical Products
Computer & Electronic Products
Nonmetallic Mineral Products
Fabricated Metal Products
Contracting Manufacturing Industries
Apparel, Leather & Allied Products
Wood Products
Machinery
---
Transportation Market Update
Truckload Index Category
Monthly Reading
Previous Monthly Reading
Trend Direction
American Trucking Associations (SA) seasonally adjusted For-Hire Truck Tonnage
124.00
127.5
– 2.8% Decreasing
Cass Freight Index Report Shipments
1.105
1.116
– 1.0% Decreasing
Cass Freight Index Report Expenditures
2.524
2.508
+ .6% Increasing
Freight Transportation Services Index (TSI)
114.3
115.1
– 0.7 Decreasing
Trucking Employment
+ 8400 Jobs
+ 2400 Jobs
Positive
NAFTA Statistics for August
59.4% of the $94.4 Billion of U.S. – NAFTA trade was transported by truck in September; this is up 5.4% YOY
"Despite October's month-to-month decrease, we saw a very robust year-over-year increase and I'm seeing some good signs out of the trucking industry that suggests the economy may be a little stronger than we think," he said. "Specifically, the heavy freight sectors, like tank truck, have been helping tonnage this year. But in the third quarter, generic dry van truckload freight saw the best quarterly gains since 2010. I view this positively for the economy. I view it positively for trucking. Now, we have to see if it continues."
– Bob Costello ATA Chief Economist
---
GLOBAL MARKET UPDATE
Recent Statements from National Retail Federation and Hackett Associates
U.S. Imports handled 1.43 million TEU in October, which was up 6.4% YOY from October 2012.
According to the recent edition from Port Tracker from the National Retail Federation (NRF) and maritime consultancy Hackett Associates, the report shows that August through September cumulatively accounted for 4.35 million cargo containers, which was up 4.3% YOY for the same two months in 2012.
2013 is expected to finish off with 16.2 million total TEU's imported, which would be up 2.3% up from 2012, when the count was at 15.8 million TEU.
NRF has predicted that 2013 holiday sales will be up 3.9% annually; reaching $602.1 billion.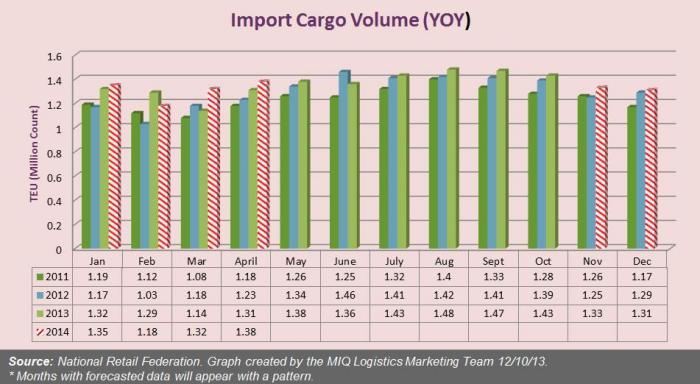 Transpacific Eastbound
*Note: The ocean carriers have announced their next round of GRI's and PSS (Peak Season Surcharge). Speculation with ocean carriers for January 15th GRI has already begun; levels are $240/20′, $300/40′, $340/40'HC, $380/45′.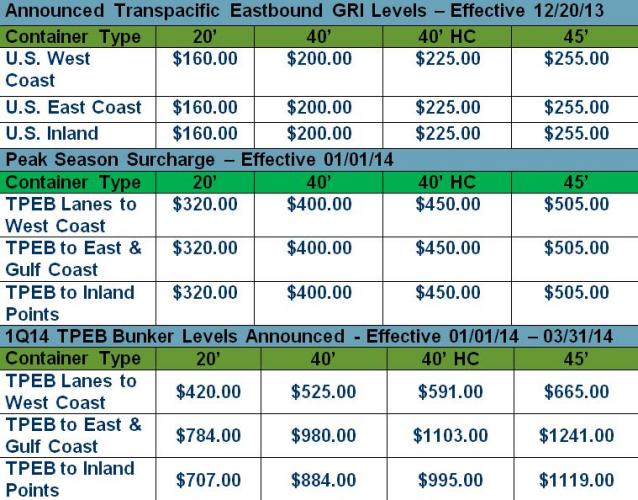 ---
SOURCES
Domestic & Global Economy
Truckload Capacity & Volumes
Global Market Update