Institute for Supply Management
Economic activity in the manufacturing sector expanded in December for the 19th consecutive month, and the overall economy grew for the 67th consecutive month, say the nation's supply executives in the latest Manufacturing ISM Report On Business.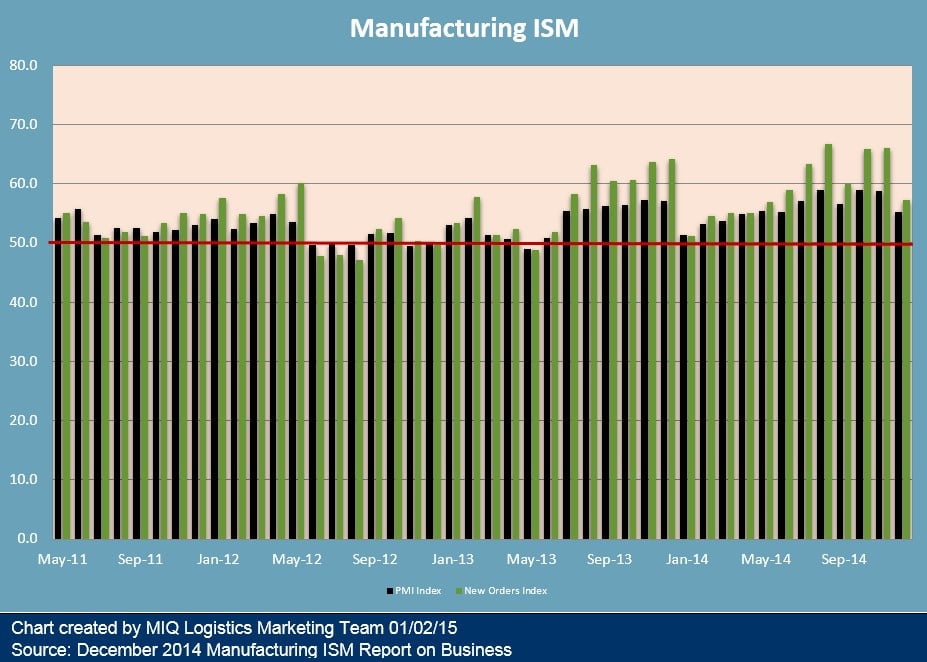 "The December PMI® registered 55.5 percent, a decrease of 3.2 percentage points from November's reading of 58.7 percent. The New Orders Index registered 57.3 percent, a decrease of 8.7 percentage points from the reading of 66 percent in November. The Production Index registered 58.8 percent, 5.6 percentage points below the November reading of 64.4 percent. The Employment Index registered 56.8 percent, an increase of 1.9 percentage points above the November reading of 54.9 percent. Inventories of raw materials registered 45.5 percent, a decrease of 6 percentage points from the November reading of 51.5 percent. The Prices Index registered 38.5 percent, down 6 percentage points from the November reading of 44.5 percent, indicating lower raw materials prices in December relative to November. Comments from the panel are mixed, with some indicating that falling oil prices have an upside while others indicate a downside. Other comments mention the negative impact on imported materials shipment due to the West Coast dock slowdown."
Of the 18 manufacturing industries, 11 are reporting growth in December in the following order: Printing & Related Support Activities; Fabricated Metal Products; Primary Metals; Furniture & Related Products; Food, Beverage & Tobacco Products; Petroleum & Coal Products; Textile Mills; Paper Products; Miscellaneous Manufacturing; Electrical Equipment, Appliances & Components; and Transportation Equipment. The six industries reporting contraction in December — listed in order — are: Plastics & Rubber Products; Wood Products; Machinery; Nonmetallic Mineral Products; Chemical Products; and Computer & Electronic Products.
>> Click here to read the entire report on business from the Institute for Supply Management.