During the month of December 2019, Noatum Logistics (formerly MIQ Logistics) was involved in a number of events throughout the logistics industry. Read about industry updates, regulatory updates, industrial manufacturing supply chain solutions, and careers at Noatum Logistics USA in the December 2019 logistics link.
REGULATORY UPDATES
On Thursday, December 19, 2019, U.S. Customs and Border Protection (CBP) issued an update on the new Minimum Security Criteria (MSC) in CSMS Message 41052241. The message is addressed to CTPAT members and provides important information on the effective date for the MSC, along with how to find the new requirements and when you can update your profile with the new information. Read more.
On Tuesday, December 17, 2019, the United States Trade Representative (USTR) office released a new list of product exclusions to the Section 301 List 3 products currently subject to a 25% tariff in the  Federal Register Notice 84 FR 69012.  Read more.
On December 10, 2019, a revised version of the USMCA was agreed upon and signed by the United States, Mexico and Canada. USMCA updates provisions on agriculture, automobiles, textiles, apparel, rules of origin, communications technology, intellectual property rights, low-value shipments, digital trade, currency and other issues. Read more.
On Friday, December 13, 2019, the United States Trade Representative (USTR) announced a Phase 1 Trade Agreement  with China. This enforceable agreement requires structural reforms to China's economic and trade regime in the areas of intellectual property, technology transfer, agriculture, financial services, and currency and foreign exchange. Read more.
On Friday, November 29, 2019, the United States Trade Representative (USTR) office released a new list of product exclusions to the Section 301 List 3 products currently subject to a 25% tariff in the Federal Register Notice 84 FR 65882. Read more.
INDUSTRY NEWS
Volume at the nation's major container ports bumped up significantly in November as retailers imported merchandise ahead of new tariffs set to take effect this month, according to the Global Port Tracker report released December 9, 2019, by the National Retail Federation and Hackett Associates.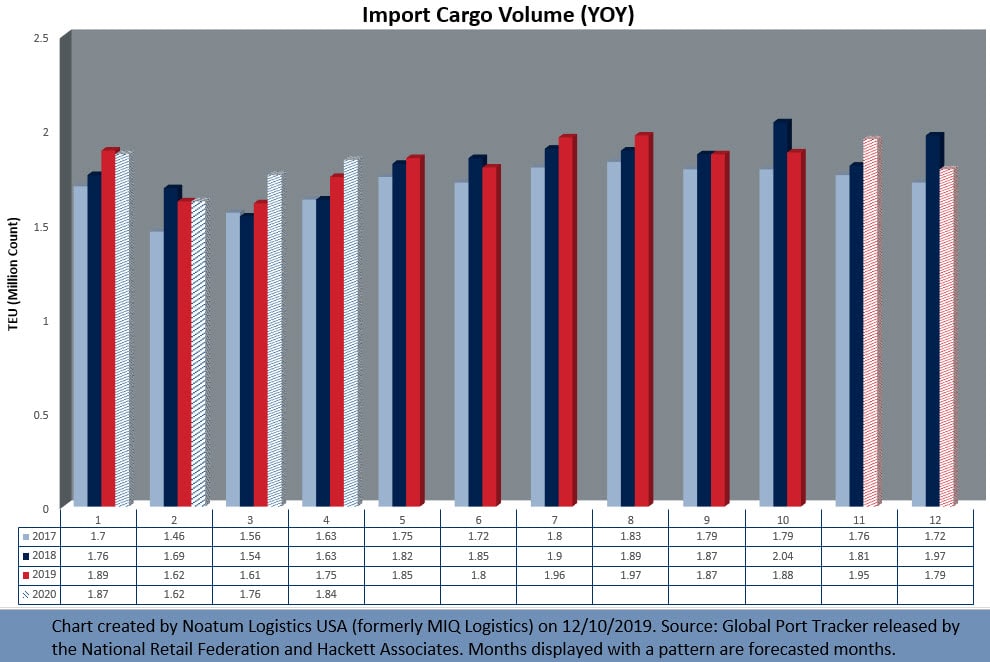 Economic activity in the manufacturing sector contracted in November, and the overall economy grew for the 127th consecutive month, say the nation's supply executives in the latest Manufacturing ISM® Report On Business®.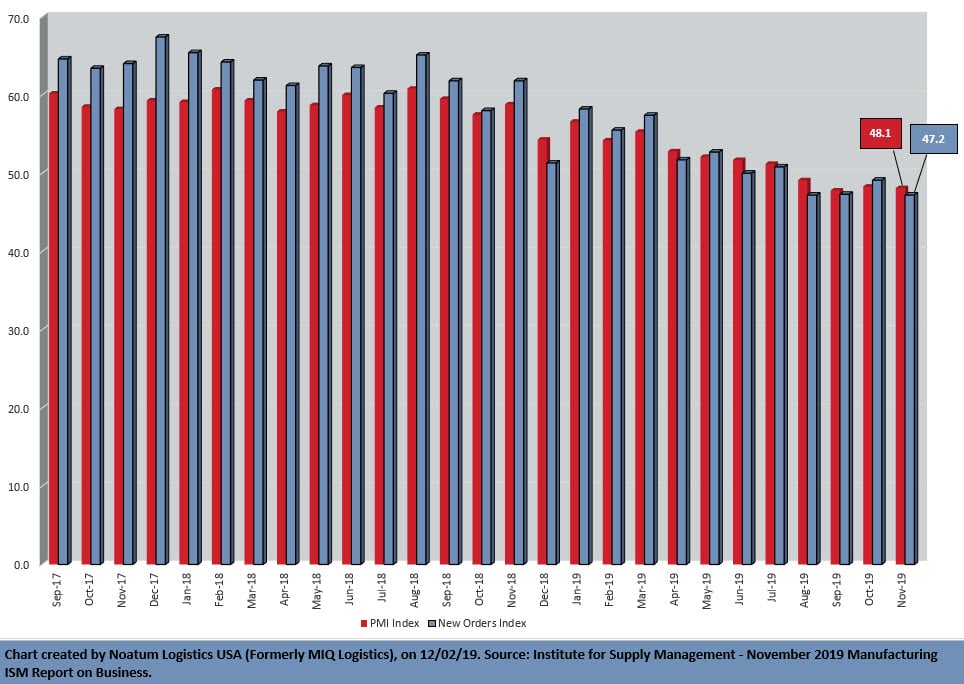 Announced levels for upcoming Transpacific Eastbound GRIs, PSSs and LSFs from carriers can now be accessed anytime from our MIQ.com – Resources – Information and Tools page.
SERVICES
Industrial Manufacturing Supply Chain Solutions
Noatum Logistics professionals provide the expertise to find new ways to manage costs, build cash reserves, streamline processes, improve products and increase your resilience to unplanned disruptions in established and emerging markets.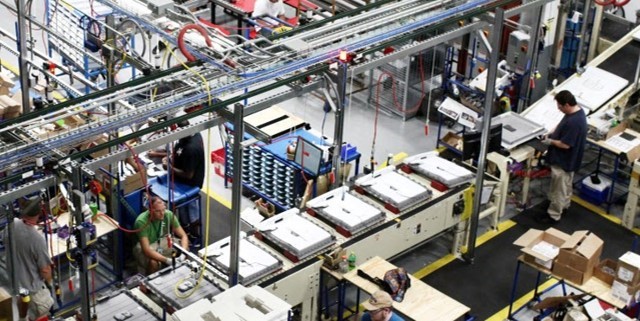 Noatum Logistics services include the following:
Solution Design
Network analysis and redesign
Supply chain optimization
Continuous improvement opportunities
Global Services
Air, ocean, sea-air
Global trade management/compliance
Customs brokerage
Purchase order management
Cross border services
Origin consolidation
Transportation Services
Transportation management
Inbound order management
Vendor compliance
Shipment consolidation
Milk-run management
Truckload services, including flatbed and exclusive use equipment
Distribution Services
Warehouse management and fulfillment
Scalable warehouse space
DC bypass
Inventory management
Value-added Services
Kitting
Pick and pack
Light assembly
Materials management
In-house crating and special handling
Project Logistics
Heavy lift and out-of-gauge transportation
Purchase order expediting
Transportation of oversize shipments
Physical inventory controL
Web-Hosted Technology
Real-time track and trace
Supply chain visibility tools
Best-in-class warehouse management system
To learn how our global network of logistics professionals can help your company reach its business goals, contact your local Noatum Logistics USA (formerly MIQ Logistics) representative.
CAREERS AT NOATUM LOGISTICS USA
It is an excellent time to consider a career at Noatum Logistics USA (formerly MIQ Logistics)! As part of this extensive worldwide organization, Noatum Logistics USA offers a variety of opportunities for our employees around the globe. As a sustainable competitive advantage, our employees make a difference for our customers every day. Noatum Logistics, a leading player in the global logistics industry, currently has openings in the following U.S. locations: Los Angeles (Gardena/Compton), CA, South San Francisco, CA, Miami, FL, Overland Park, KS, and Jamaica, NY. View our current openings here and apply today!