U.S. Energy Information Administration
Key details from the latest Short-Term Energy Outlook released from the U.S. Energy Information Administration. Some of the highlights included the following: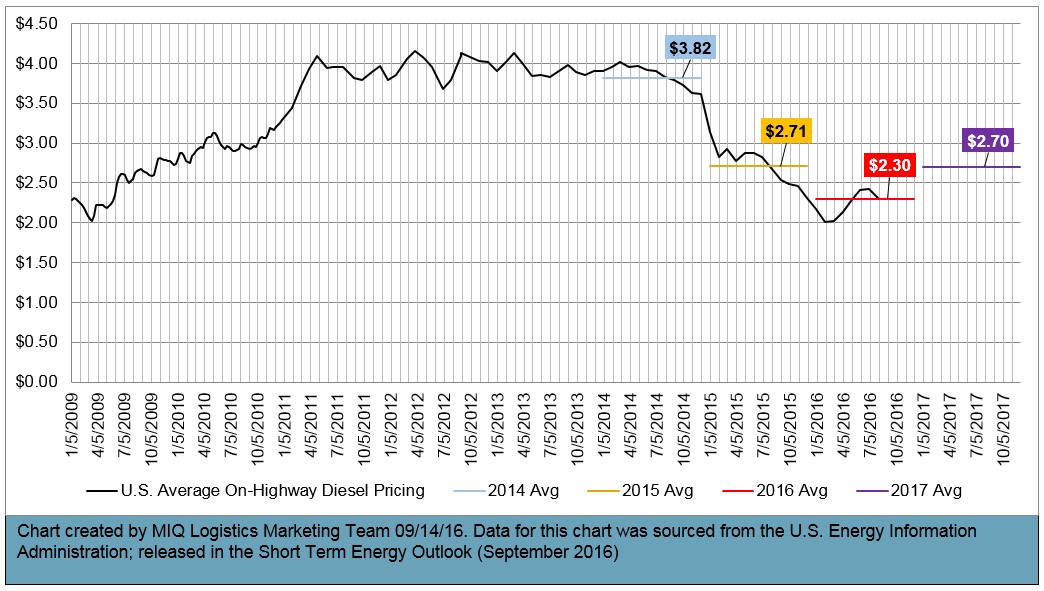 "EIA expects global oil inventory draws to begin in mid-2017. The expectation of inventory draws contributes to rising prices in the second quarter of 2017, with price increases continuing later in 2017. Brent prices are forecast to average $52/b in 2017. Forecast Brent prices average $58/b in the fourth quarter of 2017, reflecting the potential for more significant inventory draws beyond the forecast period".
"U.S. crude oil production is projected to decrease from an average of 9.4 billion b/d in 2015 to 8.8 million b/d in 2016 and to 8.5 million b/d in 2017. Production levels in 2017 for this forecast are 0.2 million b/d higher than in the August STEO. The upward revisions to production largely reflect an assumption of higher drilling activity, drilling efficiency, and well-level production than assumed in previous forecast".
"EIA expects that the U.S. average retail price of regular gasoline reached a peak of $2.37/gal in June and will fall to an average of $2.13/gal in September and to an average of $1.92/gal in December. The U.S. regular gasoline retail price, which averaged $2.43/gal in 2015, is forecast to average $2.08/gal in 2016 and $2.26/gal in 2017. The diesel fuel retail price averaged $2.71/gal in 2015. The diesel price is forecast to average $2.31/gal in 2016 and $2.70/gal in 2017".
>> Click here to access the entire Short-Term Energy Outlook from the EIA.