"As predicted, the transportation ecosystem is finding itself in turmoil as freight shipments, particularly imports, climb in anticipation of a stronger holiday shopping season this year. The real story, however, is that the cargo is having trouble entering the country and moving quickly to final end users. Port congestion, especially on the West Coast, is causing trouble for retailers attempting to stock their shelves for the season kickoff on Black Friday. All of this contributed to domestic freight shipment activity dipping again in October, while total freight spending rose slightly."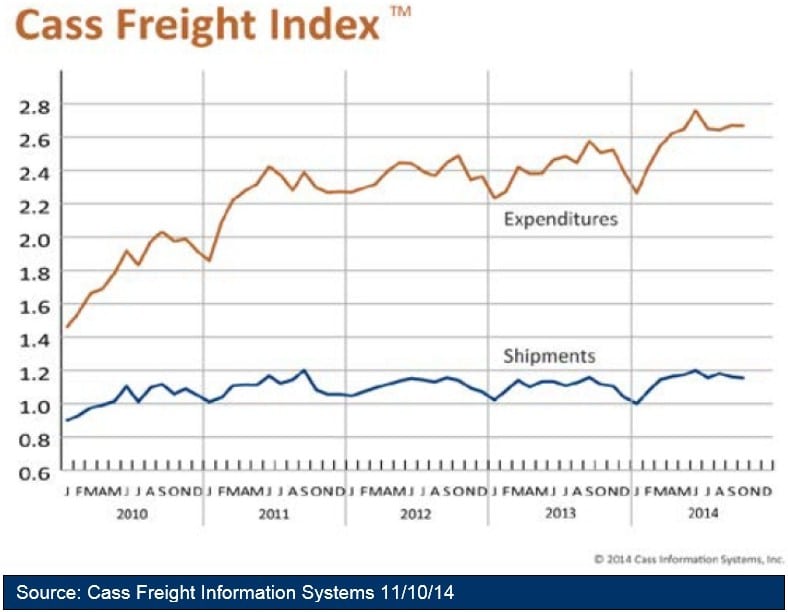 Shipment Volume
"On the shipment activity side, the overall number of shipments fell another 0.9 percent from September to October. The slide can be attributed to the port congestion and to a drop in new orders for manufactured goods in September. The Commerce Department reported that orders to U.S. factories dipped 0.6 percent in September, after having plunged 10 percent in August. This decline contributed to the drop in shipments of manufactured goods in October. Despite the slowdown in September, the Institute for Supply Management's PMI rose 4.2 percent in October, with production up 0.3 percent. New orders are up a strong 9.7 percent and, even better, the backlog of orders is up 12.8 percent – indicating that we can expect strong factory shipments in the coming months. Exports continue to drop off, down 3.7 percent, as the strength of the dollar exacerbates weakening global demand. Imports, on the other hand, were up 2.3 percent as retailers continue to order to stock shelves. On a year over year basis for October, the number of shipments is 3.3 percent higher than levels in October 2013."
Freight Expenditures
"The October freight payment index rose 0.1 percent, somewhat lower than the 0.8 percent rise last month. Diesel fuel prices continue to plummet, reducing the impact of fuel surcharges on carriers' linehaul rates. October 2014 freight expenditures are 6.4 percent higher than the corresponding month a year ago and 11.8 percent higher than December 2013. Freight rates are finally starting to move and shippers are pushing back, but in most cases they have no choice but to accept the rate hikes due to parallel capacity issues. Most of the small parcel carriers have announced substantial rate increases in advance of the holiday season. With the scarcity of equipment and drivers, rates have only one way to move."
Overall Picture
"…and so it came to pass as it was foretold…
The best description for much of our freight transportation system is turmoil. The congestion and slowdown at the ports deteriorated over the month of October and has reached crisis proportions, particularly at the Port of LA/Long Beach, which handles more than 40 percent of all U.S. ocean imports and a disproportionately large percent of consumer goods – the very goods that are supposed to be stocking shelves for the upcoming holiday buying season. Toy retailers, in particular, have been hard hit and everyone is feeling the effect of a three-week delay now at the Port of LA/Long Beach.
The underlying problem is primarily supply issues. Trucks, especially drayage trucks, are in short supply as the profitability of that segment continues to fall. But perhaps an even larger problem is a serious lack of chassis on which to move the containers from the ports to DCs and stores. The ports of NY/NJ, Houston and Norfolk are also experiencing congestion problems, though not as severe as LA/Long Beach. A contributing issue is the larger TEU ships that bring more containers in a condensed time frame this time of year, as the current level of handling equipment is unable to keep pace. These larger vessels can be up to one-third larger than the vessels that arrived at Los Angeles and Long Beach just a few years ago. Drayage carriers are also reporting that they can make fewer turns because of the congestion. Truckers have reported waiting hours in line to pick up a container, only to find that no chassis is available to move the container out of the port. The lack of an ILWU contract is contributing to the slowdowns on the West Coast as communication between parties has degenerated to trading barbs in the media."
>> Click here to access the October Cass Freight Index Report.