"Despite month-to-month volatility in the final quarter of 2013, the U.S. LEI continues to point to gradually strengthening economic conditions through early 2014," said Ataman Ozyildirim, Economist at The Conference Board. "The LEI was lifted by its financial components in December, but consumer expectations for business conditions and residential construction continue to pose risks."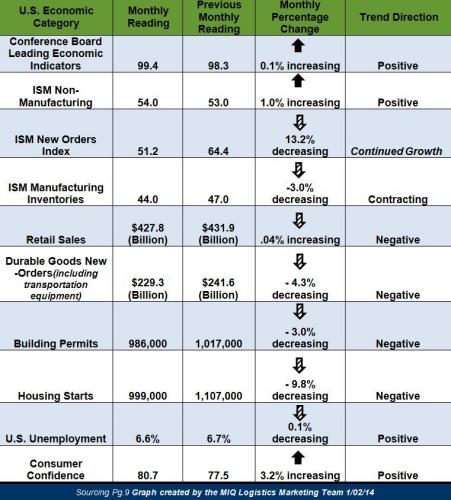 Institute for Supply Management (ISM) Manufacturing Report on Business
Economic activity in the manufacturing sector remained in expansion in January
50 represents the dividing line between expansion and contraction for the index of the below chart; which covers the Purchasing Managers Index (PMI) and new orders.
The PMI registered 51.3% in January, which was 5.3% lower than December's reading.
New Orders increased in January by 13.2%.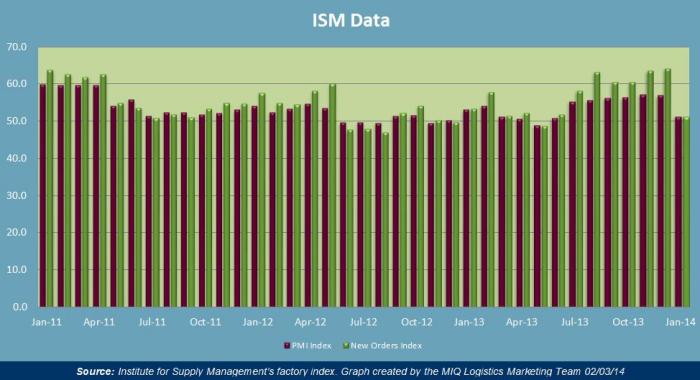 Expanding Manufacturing Industries
Plastics & Rubber Products
Primary Metals
Textile Mills
Wood Products
Printing & Related Support Materials
Fabricated Metal Products
Electrical Equipment, Appliances & Components
Transportation Equipment
Machinery
Furniture & Related Products
Food, Beverage & Tobacco Products
Contracting Manufacturing Industries
Nonmetallic Mineral Products
MPetroleum & Coal Products
Apparel, Leather & Allied Products
Miscellaneous Manufacturing
Chemical Products
Paper Products
Computer & Electronic Products
---
Transportation Market Update
Truckload Index Category
Monthly Reading
Previous Monthly Reading
Trend Direction
American Trucking Associations (SA) seasonally adjusted For-Hire Truck Tonnage
131.7
130.9
+ 0.6% Increasing
Cass Freight Index Report Shipments
1.000
1.037
– 3.6% Decreasing
Cass Freight Index Report Expenditures
2.265
2.387
– 5.1% Decreasing
Freight Transportation Services Index (TSI)
116.5
117.7
– 1.0 Decreasing
Trucking Employment
+ 3,100 Jobs
+ 100 Jobs
Positive
NAFTA Statistics for August
59.9% of the $96.1 Billion of U.S. – NAFTA trade was transported by truck in November; this is up 2.5% YOY
"The Freight TSI remained above its 2012 range for the 12th month in a row. Beginning with January, every month in 2013 exceeded the high point of 2012, 111.6 reached in December" –Bureau of Transportation Statistics
---
Global Market Update
 Recent Updates from National Retail Federation and Hackett Associates
U.S. ports followed by Global Port Tracker handled 1.30 million TEUs in December, which was up 0.6% YOY from December 2012.
"Retailers will be moving spring merchandise toward their shelves in just a few weeks, and early numbers point to a busy season ahead".
March 2014 is expected to see a significant jump when compared to March 2013 with a forecasted 1.29 million TEU forecasted for the month; this points to a possible YOY bump of 13.7%.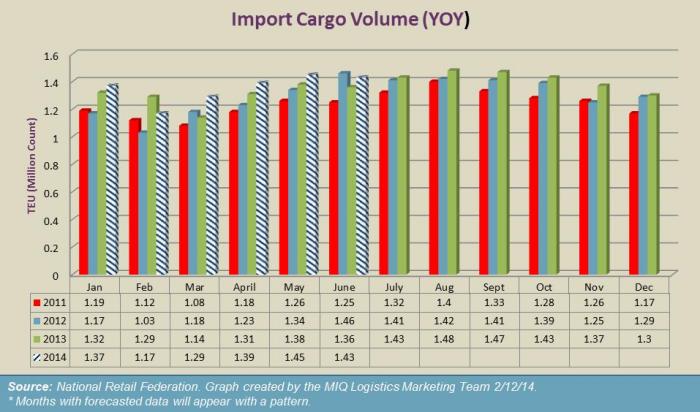 Transpacific Eastbound
*Note: The ocean carriers have announced their next round of GRI's and some carriers have implemented a PSS (Peak Season Surcharge) on 1/1/14.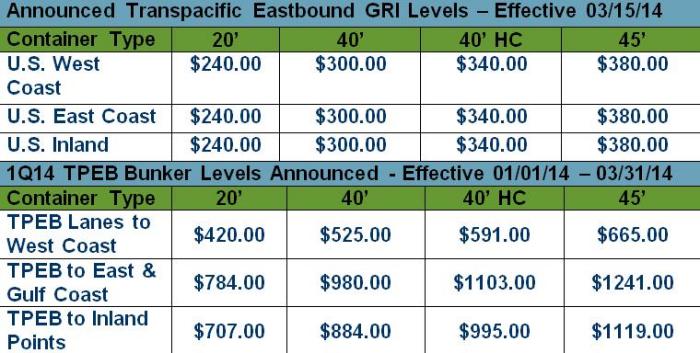 Weather Delays Impacting Logistics Operations
Since the beginning of December the Midwest, Northeast, Mid-Atlantic, and most recently the Southeast have all faced a barrage of winter storms.  The toll these storms are taking on logistics run the gamut of topics:
Chassis shortages:  Two of the largest ports reporting chassis shortages are the Port of New York, and New Jersey, however Midwestern rail terminals are also feeling the effects of the shortage.
Terminal Delays: Container terminals along certain East coast ports have experienced several days of closures and/or short schedules both in January and in February.  This has resulted in congestion at certain ports with long lines of trucks parked outside of terminals waiting to get in.
Line Haul Delays: Stranded trucks, delayed loads, and increased truck maintenance are all affecting logistics schedules.
---
Regulations
Japan Ocean Advanced Filing Rules (AFR)
Japanese Customs Authorities have announced the Implementation of the Advanced Filling Rules (AFR), which require Shipping Company and NVOCC to electronically submit to the Customs information on maritime container cargoes to be loaded on a vessel intended to entry into a port in Japan, in principle no later than 24 hours before departure of the vessel from a port of loading. The rule will be effective on March 1, 2014. Enforcement will start on March 1, 2014 Japan Time or GMT March 9, 2014 at 3 p.m. Please contact your MIQ Logistics representative for more information.
International Longshore Workers Union (ILWU) Contract
June 30, 2014 will mark the end of the current International Longshore Workers Union (ILWU) contract. The ILWU manages the labor for all Longshore work done on the west coast of the United States from Seattle to San Diego and Vessel Pilots in the Panama Canal. Although no one can predict the future, it is important to know the potential scenarios that may occur during the contract renewal negotiations this summer.
---
SOURCES
Domestic & Global Economy
Truckload Capacity & Volumes
Global Market Update