During the month of February, 2022, Noatum Logistics was involved in a number of events throughout the logistics industry.  Read about industry updates, regulatory updates and announcements in the February, 2022 Logistics Link.
Regulatory Updates
NEW U.S. SANCTIONS AND EXPORT CONTROLS AIM TO IMPOSE "DEVASTATING COSTS" ON RUSSIA
On February 24, 2022, the United States imposed a combination of extensive and complex trade sanctions and export controls against Russia in response to is invasion of Ukraine. These restrictions will be especially onerous for companies that produce U.S. export-controlled items. Read more
UNITED STATES AND JAPAN REACH AGREEMENT ON SECTION 232 STEEL TARIFFS
On Monday February 7, 2022, the United States Trade Representative (USTR) announced a 232 Tariff Agreement with Japan. The new agreement will allow Japan to ship up to 1.25 million tons of steel under a tariff rate quota (TRQ) without paying the 25% tariff. Any steel shipped in excess of the 1.25 million tons will be subject to the 25% tariff. The agreement which will take effect April 1st did not change the 10% tariff on aluminum. Read more
CANADIAN PROTESTS AND BORDER DISRUPTION
Continual disruptions along the Canadian border are creating havoc for us all. Read more
SOLAR CELL 201 SAFEGUARD REVISED AND EXTENDED
On Friday February 4, 2022, the President of the United States issued a Proclamation to Continue Facilitating Positive Adjustment to Competition from Imports of Certain Crystalline Silicon Photovoltaic Cells (CSPV) (Whether or Not Partially or Fully Assembled into Other Products. Read more
U.S.-CANADA BORDER BLOCKED BY TRUCKERS CHALLENGING THE VACCINE MANDATE
Canadian officials are denouncing an "unlawful" blockade of a border crossing between the United States and Canada and reports of violence, as a self-described "Freedom Convoy" of truckers and their supporters opposed to vaccine mandates continued its demonstrations for a fifth day. Read more
Industry News
CONGESTED RETAIL PORTS TO SEE WELCOME BREAK FROM RAPID IMPORT GROWTH DURING FIRST HALF OF 2022
Imports at the nation's congested container ports are expected to grow modestly during the first half of 2022, but continued high volumes will keep up pressure that built as the economy bounced back from the pandemic last year, according to the monthly Global Port Tracker report released today by the National Retail Federation and Hackett Associates. Read more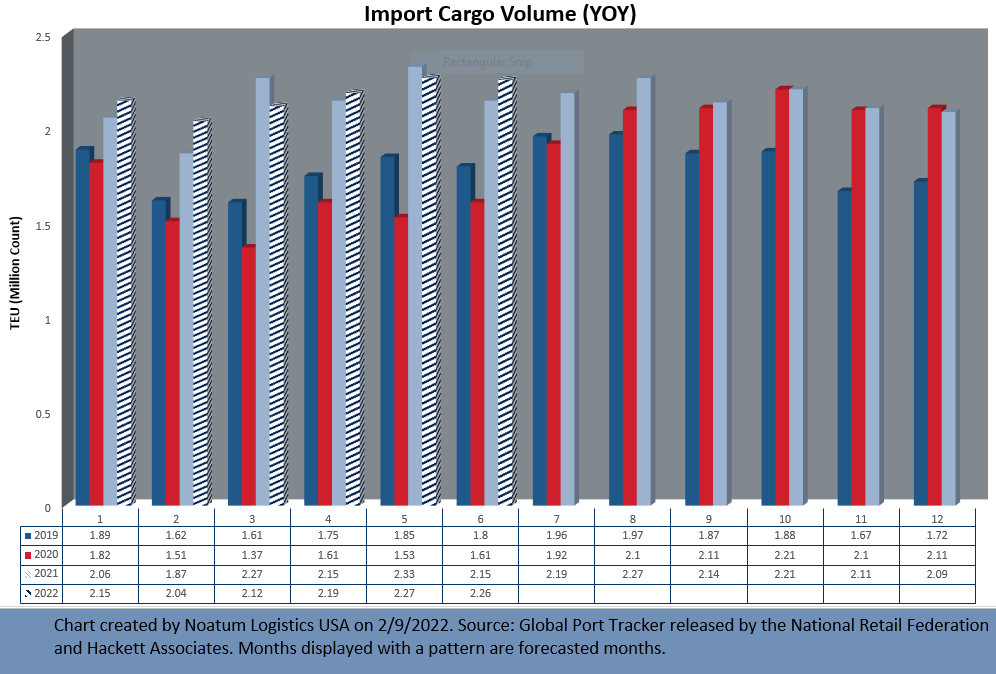 TRANSPACIFIC EASTBOUND GENERAL RATE INCREASE (GRI) AND PEAK SEASON SURCHARGES (PSS)
Announced levels for upcoming Transpacific Eastbound GRIs and PSSs from carriers can now be accessed anytime from our MIQ.com – Resources – Information and Tools page. Read more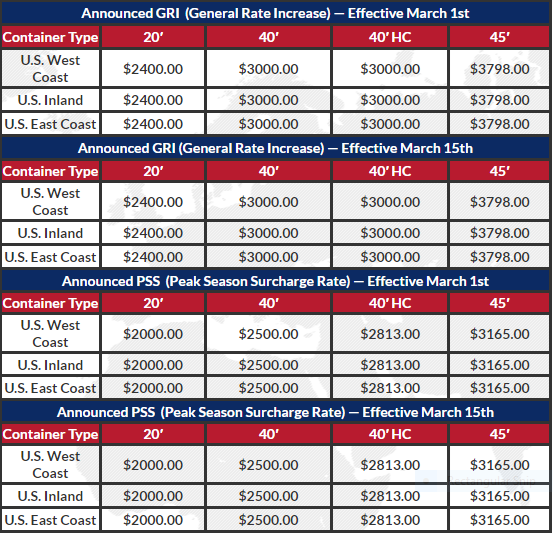 Careers at Noatum Logistics USA
It is an excellent time to consider a career at Noatum Logistics USA!  As a multi-faceted worldwide organization, Noatum Logistics USA offers a variety of opportunities for our employees around the globe. Our employees, a true competitive advantage, make a difference for our customers every day.
Noatum Logistics, a leading player in the global logistics industry, currently has openings in the following U.S. locations: Buffalo, NY, Chicago, IL, Houston, TX, Jamaica, NY, Los Angeles, CA, and Miami, FL. View our current openings here and apply today!