A number of COVID-19 cases had emerged at the port last week, and tightened health and safety measures have been rolled out by local authorities. This advisory includes the latest updates, as well as contingency plans from our carrier partners.
Terminals
Yantian International Container Terminal (YICT) yard density remains elevated with disinfection and quarantine measures being continuously implemented by local authorities to prevent the spread of COVID-19.
Operation in the eastern area of the terminal where mother vessels mainly berth continues to have lowered productivity, at about 30% of normal operations.
Terminal congestion and delays are expected to continue for at least an additional week.
Acceptance of export laden containers has resumed from 00:00 AM on 31 May.
From 31 May to 6 June, only export laden containers within 3 days of the vessel's ETA will be accepted.
Pick-up of import laden containers (mainly in the eastern area of the port) remains as per normal.
Intermodal Service
Service into YICT needs to be reserved in advance.
Export laden containers gate-in are subject to the confirmation issued by YICT.
Carrier Schedule Changes
Hapag Lloyd
Hapag-Lloyd will temporarily change the Far East Loop 2/3/4 from calling Yantian to Nansha Container Terminal for the following sailings:
Far East Loop 2 (FE2): VOY 015W AL ZUBARA, VOY 013W MOL TREASURE
Far East Loop 3 (FE3): VOY 001W HMM RAON
MSC
MSC will also be omitting a number of calls at the Yantian port as to minimize impact vessel schedules. Specific info to be advised.
ONE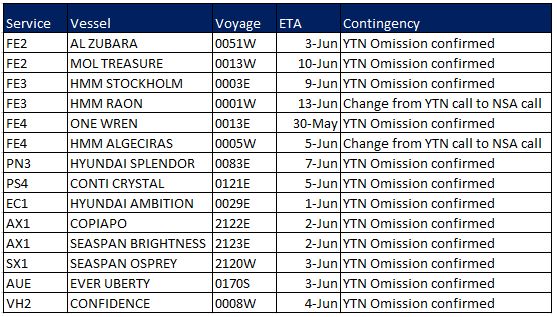 Maersk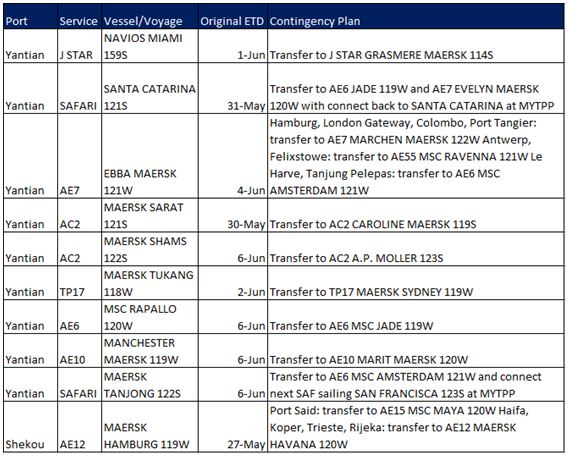 If you have any questions, please contact your Noatum Logistics representative.