Logistics Management
With the last of holiday season merchandise making its way to retailers, United States-bound imports are expected to see a bump in December, according to the most recent edition of the Port Tracker report issued today by the National Retail Federation (NRF) and maritime consultancy Hackett Associates.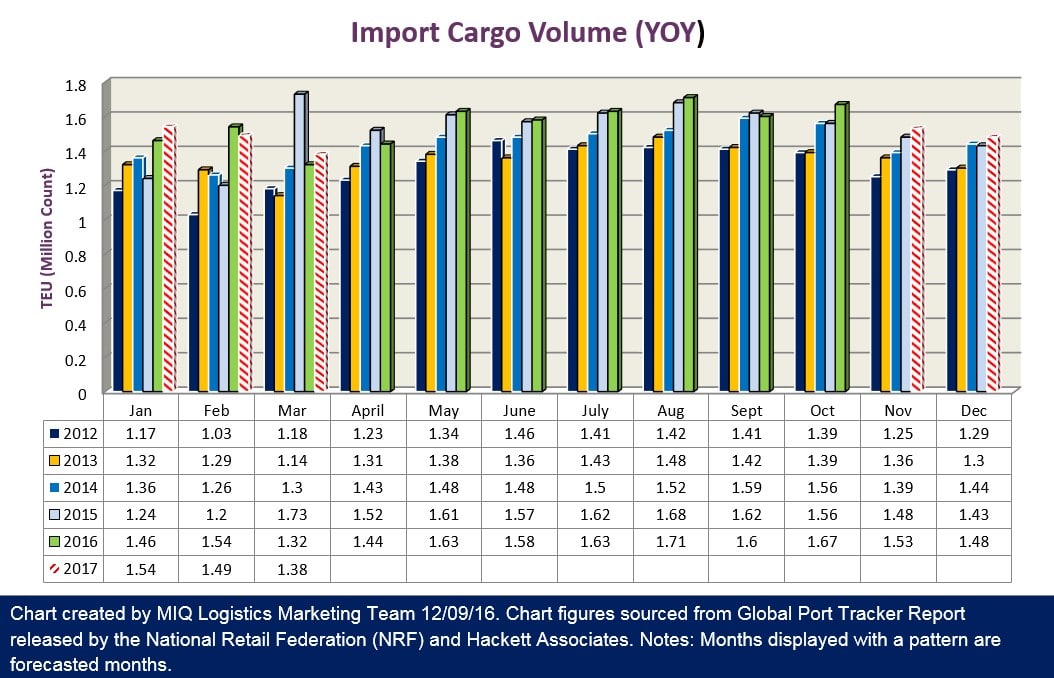 The ports surveyed in the report include: Los Angeles/Long Beach, Oakland, Tacoma, Seattle, Houston, New York/New Jersey, Hampton Roads, Charleston, and Savannah, Miami, and Fort Lauderdale, Fla.-based Port Everglades. Authors of the report explained that cargo import numbers do not correlate directly with retail sales or employment because they count only the number of cargo containers brought into the country, not the value of the merchandise inside them, adding that the amount of merchandise imported provides a rough barometer of retailers' expectations.
"There's still shopping to be done, and retailers are making sure the gifts that need to be under a tree are waiting on the shelves," NRF Vice President for Supply Chain and Customs Policy Jonathan Gold said. "Imports are up a healthy amount over this time last year, and that's a good sign for holiday sales and the economy."
For October, the most recent month for which data is available, total volume came in at 1.67 million Twenty-Foot Equivalent Units (TEU) for a 4.6 percent increase compared to September and a 7.4 percent annual gain.
November volume was estimated at 1.53 million TEU for a 3.6 percent annual increase, with December pegged at 1.48 million TEU for a 3.2 percent increase.  And for all of 2016, the report is calling for volume to be up 2 percent annually at 18.6 million TEU compared to 2015's 18.2 million TEU, which was up 5.4 percent over 2014. The first half of 2016 saw a 1.6 percent annual increase at 9 million TEU. The 1.6 percent estimate is lower than last month's 2.2 percent prediction.
As defined by the NRF, the holiday sales season is comprised of the months of November and December. And the report's expectations for November and December are in line with the NRF's recent forecast for holiday sales to be up 3.6 percent at $655.8 billion. The report noted that cargo volume does not correlate directly to sales, because only the number of containers is counted and not solely the value of cargo inside the container, while it still serves as a barometer of retailers' expectations.
Looking to the first quarter of 2017, Port Tracker is calling for January at 1.54 million TEU, February at 1.49 million TEU, and March 1.38 million TEU to be up 3.2 percent, down 3.5 percent, and up 4.4 percent, respectively.
Hackett Associates Founder Ben Hackett wrote in the report that the expected 1.6 percent volume gain (this number includes certain Canadian ports) is below GDP growth, which suggests a disconnect between consumption making up 70 percent of GDP and the actual import figures.
"What we are experiencing is an environment where trade growth is weaker than GDP," he wrote. "This is a new phenomenon. It was not long ago when industry leaders were doing their forecasts based on trade growth outpacing GDP by a ratio of more than 2-to-1. Those days are gone, and trade economists are suggesting that we might not see parity again in the coming three to five years."
Hackett also cited what could be viewed as mixed messages in terms of what the economic impact of President-elect Donald Trump could be for GDP and volumes. He explained that Trump's proposed infrastructure spending could create a surge in trade as s huge economic stimulus impacts the market, but he also noted that Trump has called for tariffs on goods from China and Mexico that would discourage trade.