Florida has been under a state of emergency since Saturday afternoon, warning that residents could see power outages, fuel disruptions and flooding.
The storm could make landfall anywhere across hundreds of miles in West and Central Florida, depending on how it develops. Ian is expected to pass west of the Florida Keys late Tuesday and approach the state's west coast Wednesday.
Heavy storm surge and torrential rain can lead to significant flooding mid-to-late week in central Florida and deluge areas as far south as the Florida Keys.
Although the intensity and path of hurricane Ian is uncertain currently, we do expect disruptions across the Southeast in all modes of transportation.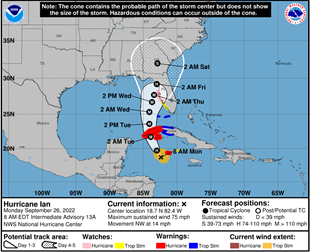 If you have any questions, please contact your local Noatum Logistics representative.