Source: National Retail Federation
July and August should be two of the busiest months ever seen for imports at the nation's major retail container ports, possibly setting a new record as merchants enter the back-to-school season and begin to stock up for the holiday season that will follow, according to the monthly Global Port Tracker report released today by the National Retail Federation and Hackett Associates.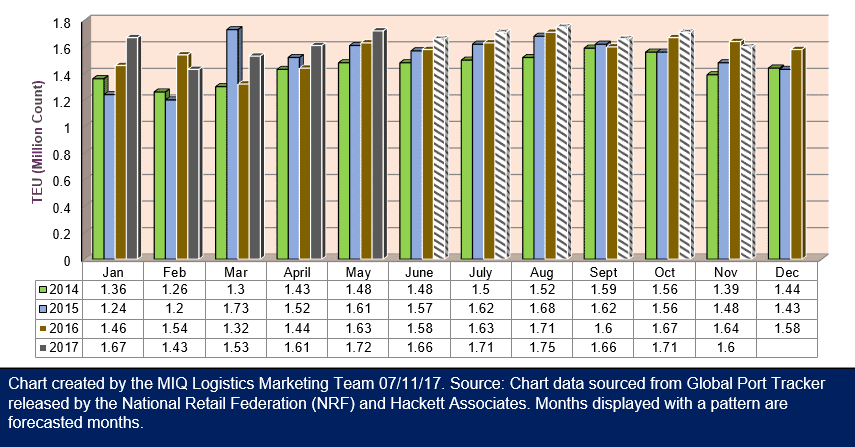 "We're expecting retailers to import some of the largest volumes of merchandise ever," NRF Vice President for Supply Chain and Customs Policy Jonathan Gold said. "That's a good indicator of what could be ahead for consumer demand and retail sales, and it's a sign that retail is going strong despite what you might read in the headlines."
Ports covered by Global Port Tracker handled 1.72 million Twenty-Foot Equivalent Units in May, the latest month for which after-the-fact numbers are available. That was up 7.3 percent from April and up 6.2 percent from May 2016. One TEU is one 20-foot-long cargo container or its equivalent.
June was estimated at 1.66 million TEU, up 5.3 percent from the same time last year. July is forecast at 1.71 million TEU, up 5.1 percent from last year; August at 1.75 million TEU, up 2.2 percent; September at 1.66 million TEU, up 4.3 percent; October at 1.71 million TEU, up 2.2 percent, and November at 1.6 million TEU, down 2.7 percent from last year.
The August figure would be the highest monthly volume recorded since NRF began tracking imports in 2000, topping the 1.73 million TEU seen in March 2015. The 1.7 million-plus numbers seen in May, July, August and October represent four of the six busiest months in the report's history.
The first half of 2017 is expected to total 9.63 million TEU, up 7.1 percent from the first half of 2016. Cargo volume for 2016 totaled 18.8 million TEU, up 3.1 percent from 2015, which had grown 5.4 percent from 2014.
>> Click here to access the entire article from the National Retail Federation.