Import cargo volume at the nation's major retail container ports is expected to increase 7.3 percent this month over the same time last year as retailers stock up for the busy back-to-school season, according to the monthly Global Port Tracker report released today by the National Retail Federation and Hackett Associates.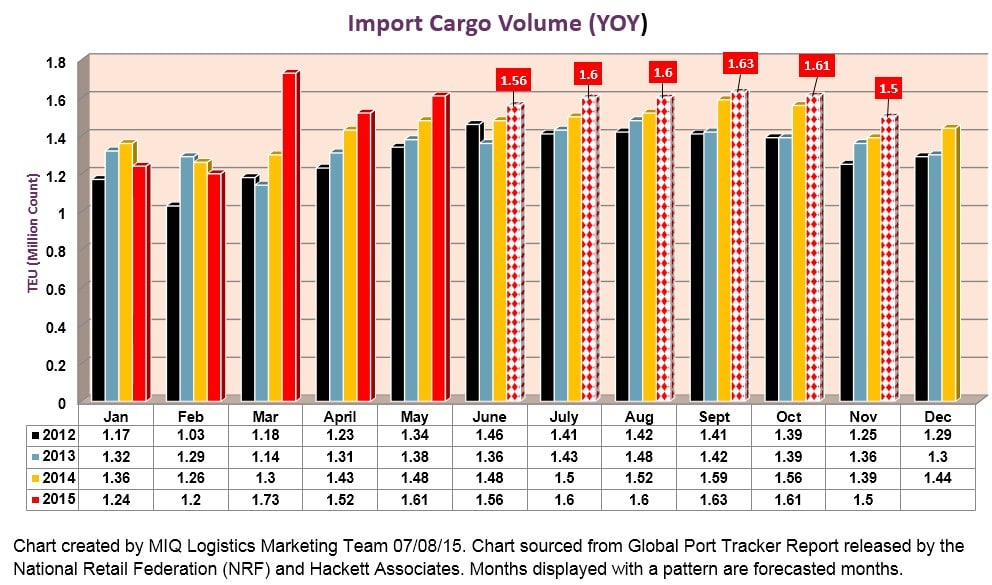 "Now that West Coast ports have recovered from the congestion caused by the recently settled contract dispute, retailers are focused on the back-to-school season to ensure that parents can find the supplies and clothing their children need for the fall," NRF Vice President for Supply Chain and Customs Policy Jonathan Gold said. "Retailers are continuing to work with their business partners to address ongoing congestion issues impacting their supply chains. Part of the solution will be Congress passing a long-term highway bill that addresses freight movement."
A new five-year contract between the Pacific Maritime Association and the International Longshore and Warehouse Union was ratified in May. The previous contract expired last July.
Ports covered by Global Port Tracker handled 1.61 million Twenty-Foot Equivalent Units in May, the latest month for which after-the-fact numbers are available. That was up 6.2 percent from April and 8.2 percent from May 2014. One TEU is one 20-foot-long cargo container or its equivalent.
June was estimated at 1.56 million TEU, up 5.5 percent from 2014. July is forecast at 1.6 million TEU, up 7.3 percent; August also at 1.6 million TEU, up 5.5 percent; September at 1.63 million TEU, up 2.4 percent; October at 1.61 million TEU, up 3.5 percent, and November at 1.5 million TEU, up 7.5 percent.
The first half of 2015 was estimated at 8.8 million TEU, up 6.4 percent over the same period last year.
Hackett Associates Founder Ben Hackett said the increases in imports are in line with other improving economic indicators.
"U.S. consumer spending recorded its largest increase in nearly six years in May, suggesting that the level of confidence about the future has improved," Hackett said. "This is very positive news."
>> Click here to access the entire article from National Retail Federation.