Source: National Retail Federation
Boosted by continuing sales growth, August is expected to be the busiest month on record for imports at the nation's major retail container ports and 2017 is on track to set a new annual high, according to the monthly Global Port Tracker report released today by the National Retail Federation and Hackett Associates.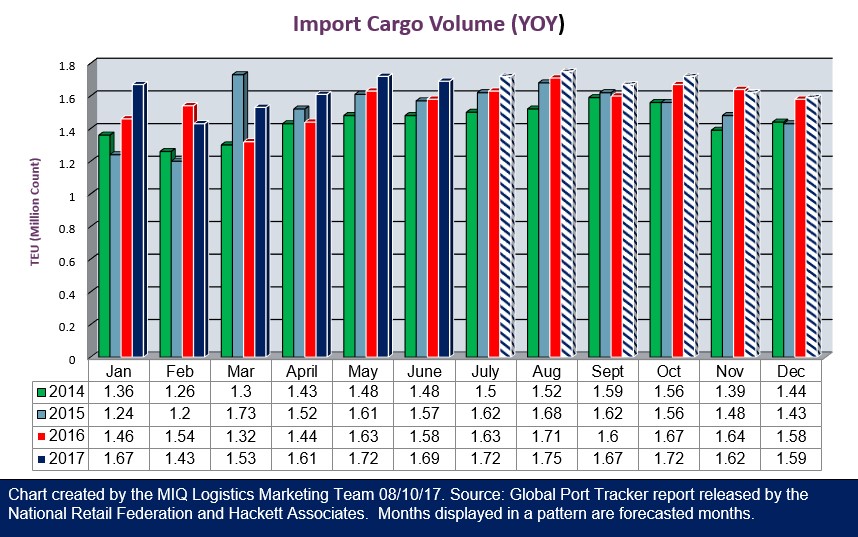 "Retailers are selling more and that means they need to import more," NRF Vice President for Supply Chain and Customs Policy Jonathan Gold said. "With sales showing year-over-year increases almost every month for a long time now, retail supply chains are working hard to keep up. These latest numbers are a good sign of what retailers expect in terms of consumer demand over the next few months."
Ports covered by Global Port Tracker handled 1.69 million Twenty-Foot Equivalent Units in June, the latest month for which after-the-fact numbers are available. That was down 2 percent from May but up 7.5 percent from June 2016. July was estimated at 1.72 million TEU, up 5.6 percent from the same time last year. One TEU is one 20-foot-long cargo container or its equivalent.
August is forecast at 1.75 million TEU, up 2.1 percent from last year. That would be the highest monthly volume recorded since NRF began tracking imports in 2000, topping the 1.73 million TEU seen in March 2015. The 1.7 million-plus numbers seen in May and July and now expected for August and October would represent four of the six busiest months in the report's history.
September is forecast at 1.67 million TEU, up 4.7 percent from last year; October at 1.72 million TEU, up 3 percent; November at 1.62 million TEU, down 1.4 percent, and December at 1.59 million TEU, up 1.5 percent.
Those numbers would bring 2017 to a total of 19.7 million TEU, topping last year's previous record of 18.8 million TEU by 4.9 percent. That compares with 2016's 3.1 percent increase over 2015. While July numbers are not yet final, the first half of 2017 tentatively totaled 9.7 million TEU, up 7.4 percent from the same period in 2016.
The import numbers come as retail continues a long-term pattern of increased sales. Total retail sales have grown year-over-year every month since November 2009, and retail sales as calculated by NRF – excluding automobiles, gasoline stations and restaurants – have increased year-over-year in all but three months since the beginning of 2010. Retail employment, despite recent short-term fluctuations, has increased by 1.5 million jobs during the same period.
>> Click here to access the entire release from the National Retail Federation.