The Freight Transportation Services Index (TSI), which is based on the amount of freight carried by the for-hire transportation industry, fell 0.2 percent in January from December, declining for the second consecutive month, according to the U.S. Department of Transportation's Bureau of Transportation Statistics' (BTS). The January 2015 index level (122.9) was 29.9 percent above the April 2009 low during the most recent recession. U.S. Department of Transportation Office of Public Affairs 1200 New Jersey Avenue, SE Washington, DC 20590 http://www.dot.gov/briefingroom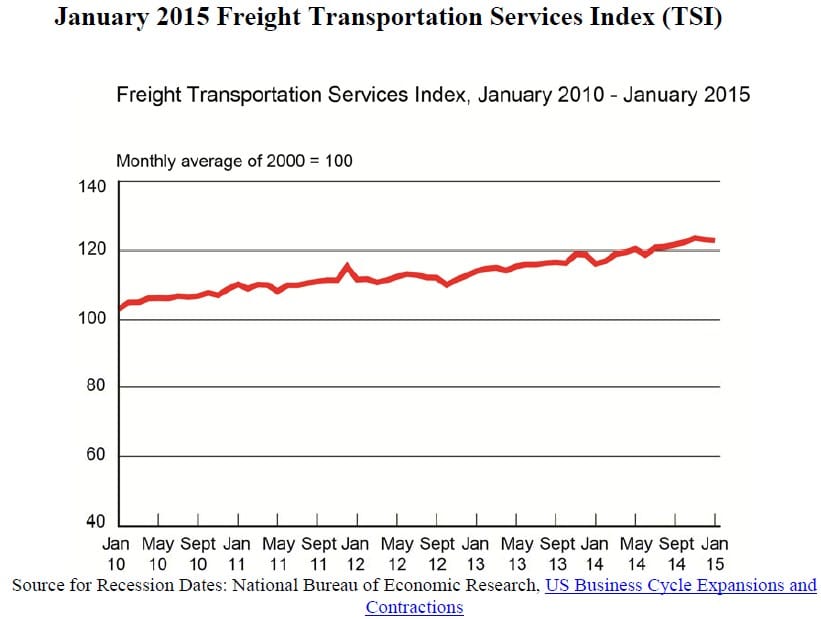 BTS Data
The level of freight shipments in January measured by the Freight TSI (122.9) was 0.6 percent below the all-time high level of 123.6 in November 2014 (Table 2A). BTS' TSI records begin in 2000. The November and December indexes were revised down from last month's release. November was revised from 123.9 to 123.6 while December was revised from 123.8 to 123.1. There were smaller downward revisions for August through October.
The Freight TSI measures the month-to-month changes in freight shipments by mode of transportation in tons and ton-miles, which are combined into one index. The index measures the output of the for-hire freight transportation industry and consists of data from for-hire trucking, rail, inland waterways, pipelines and air freight.
Analysis: Rail carloads, rail intermodal, and pipeline grew in January but air freight, trucking and waterborne decreased, resulting in the continuing decline in the overall freight index. Institute for Supply Management data indicated that growth in production, orders, and inventory slowed in January.
Trend: The Freight TSI declined in January for the second consecutive month. It was down 0.6 percent from its all-time high in November after increases for five consecutive months. Even after two months of declines, the index remained higher than it had been at any point prior to the November high. After dipping to 94.6 in April 2009, the index rose 29.9 percent in the succeeding 69 months. For additional historical data, go to TSI data.
>> Click here to access the entire report from the Department of Transportation.