During the month of January, 2021, Noatum Logistics was involved in a number of events throughout the logistics industry.  Read about industry updates, regulatory updates and announcements in the January 2021 Logistics Link.
Regulatory Updates
Noatum Logistics has received notifications from two of our core ocean carriers, one within THE Alliance and the other a partner in the Ocean Alliance, announcing 28 voided sailings between February 5 and February 26.  Read more.
On Friday, January 22, 2021, The United States Trade Representative (USTR) office issued in Federal Register Notice 86 No 13 FR 6732 the notice of determination related to the Section 301 investigation into Vietnam's Currency Valuation practices. Read more.
On Friday, January 22, 2021, U.S. Customs and Border Protection issued Cargo System Messaging Service (CSMS) # 45799085 delaying the Aluminum Import License requirement until March 29, 2021. This delay announcement is in response to the "Regulatory Freeze" issued by the White House Chief of Staff on January 20, 2021. Read more.
U.S. containerized imports from Asia in December were up 29.9% year over year with December marking the third highest monthly volume figure in 2020 behind October and August. Typically, we begin to see a slowing in the import volume from Asia in December due to a drop after the holiday rush, but the current strong peak that began mid-year is still surging. Read more.
On January 13, 2020, U.S. Customs and Border Protection (CBP) announced in a press release that a region-wide Withhold Release Order (WRO) for cotton and tomato products made by slave labor in Xinjiang would go into effect immediately. Read more.
The ongoing import surge continues to cause bottlenecks throughout the supply chain. For the week ending January 8, there were 35 vessels at anchor awaiting berths at Los Angeles/Long Beach. Read more.
The United States Trade Representative (USTR) office issued multiple Federal Register notices on January 12, 2021, addressing the Digital Service Tax (DST) decisions for France, India, Italy, and Turkey. Read more.
The double-digit percentage year over year volume growth on the Asia to U.S. trade-lane is expected to continue well past the Lunar New Year holiday (Feb 12) and potentially accelerate as Spring volumes match or exceed prior year. Read more.
Industry News
Imports seen during 2020 appear to be headed toward a new record despite the coronavirus pandemic, and remain at high levels as 2021 begins, according to the monthly Global Port Tracker report released today by the National Retail Federation and Hackett Associates. Read more.
Economic activity in the manufacturing sector grew in December, with the overall economy notching an eighth consecutive month of growth, say the nation's supply executives in the latest Manufacturing ISM® Report On Business®. Read more.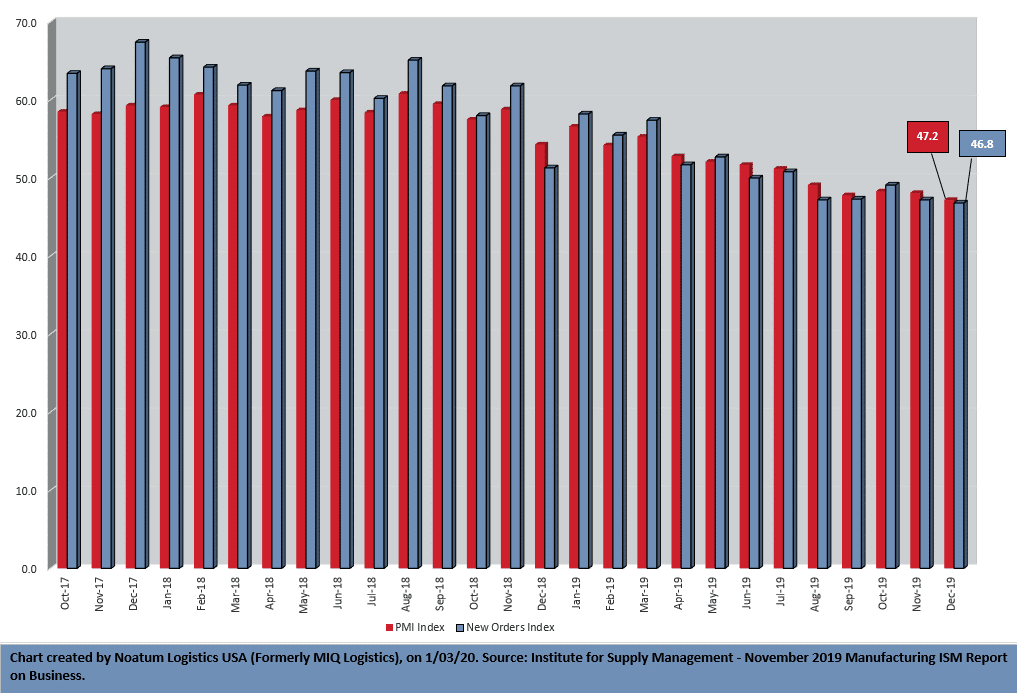 Announced levels for upcoming Transpacific Eastbound GRIs and PSSs from carriers can now be accessed anytime from our MIQ.com – Resources – Information and Tools page.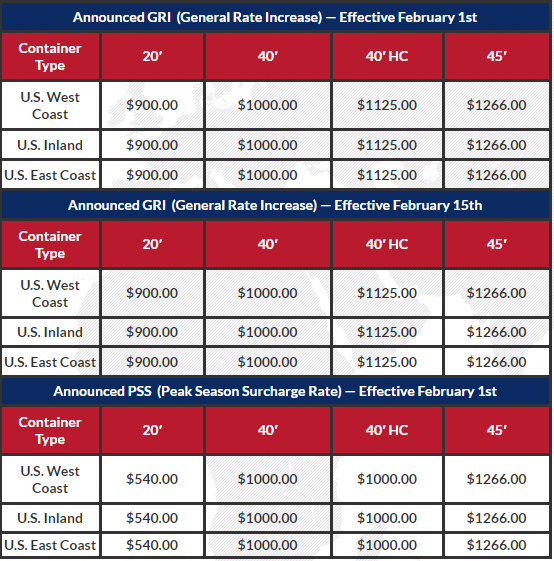 Careers at Noatum Logistics USA
It is an excellent time to consider a career at Noatum Logistics USA!  As a multi-faceted worldwide organization, Noatum Logistics USA offers a variety of opportunities for our employees around the globe. Our employees, a true competitive advantage, make a difference for our customers every day.
Noatum Logistics, a leader in the global logistics industry, currently has openings in the following U.S. locations: Chicago, IL, Houston, TX, and Overland Park, KS. View our current openings here and apply today!