During the month of January, 2022, Noatum Logistics was involved in a number of events throughout the logistics industry.  Read about industry updates, regulatory updates and announcements in the January, 2022 Logistics Link.
Regulatory Updates
Saturday, January 15, 2022, a Canadian federal law was implemented requiring all U.S. truck drivers entering Canada show proof of full vaccination. Unvaccinated Canadian truckers who are returning from the U.S. will also be required to quarantine for 14 days, according to reports. Read more
The Census Bureau's Economic Management Division (EMD) is announcing the publication of a Notice of Proposed Rulemaking (NPRM) seeking public comments on its consideration to add a conditional data element, country of origin, when foreign origin is selected in the Foreign/Domestic Origin Indicator field in the Automated Export System (AES). Read more
COVID-19 positivity rates continue to climb globally. The USA set a record on Monday, January 3, with more than 1 million positive cases reported. 95% of new cases in the USA are attributed to the fast-spreading omicron variant. Read more
Chinese authorities announced a lockdown due to positive COVID infections in Ningbo effecting the supply chain. The district of Beilun in Ningbo is on partial lockdown following the discovery of coronavirus cases on Saturday. Read more
Industry News
After a year of unprecedented increases, imports at the nation's major retail container ports are expected to return to normal growth rates in 2022 but volumes will remain high, according to the monthly Global Port Tracker report released today by the National Retail Federation and Hackett Associates. Read more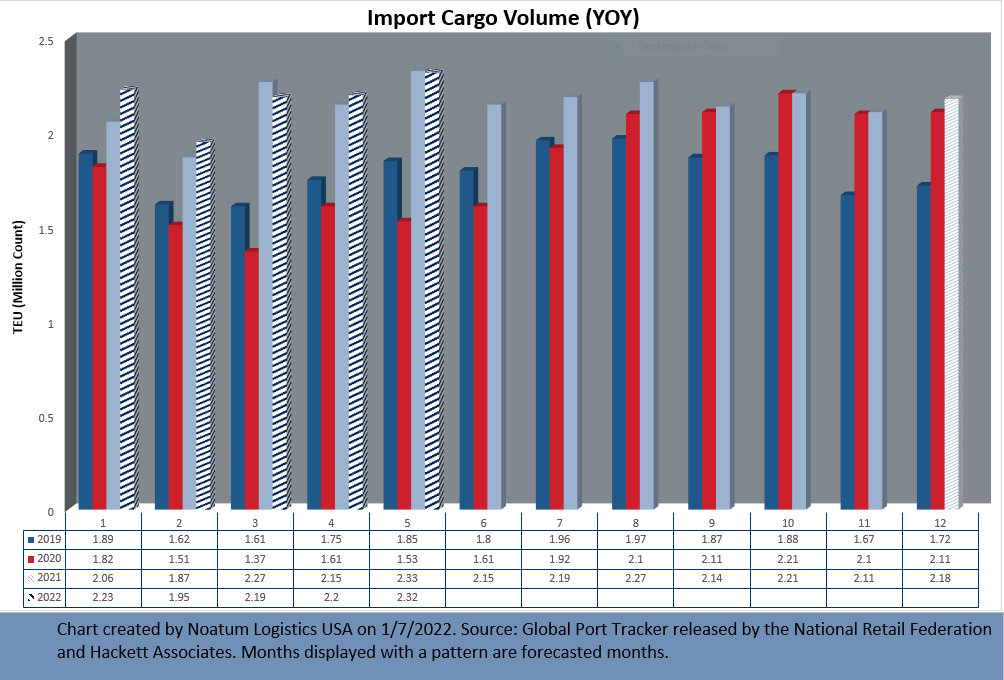 Announced levels for upcoming Transpacific Eastbound GRIs and PSSs from carriers can now be accessed anytime from our MIQ.com – Resources – Information and Tools page. Read more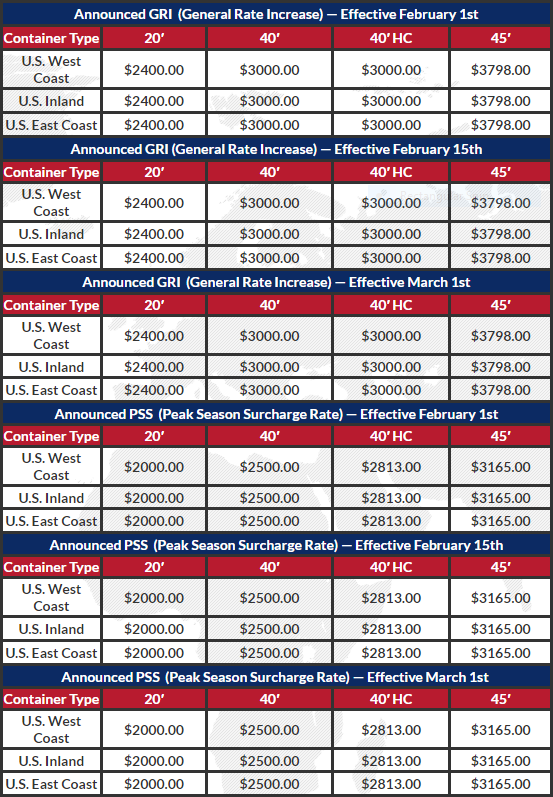 Careers at Noatum Logistics USA
It is an excellent time to consider a career at Noatum Logistics USA!  As a multi-faceted worldwide organization, Noatum Logistics USA offers a variety of opportunities for our employees around the globe. Our employees, a true competitive advantage, make a difference for our customers every day.
Noatum Logistics, a leading player in the global logistics industry, currently has openings in the following U.S. locations: Chicago, IL, Houston, TX, Jamaica, NY, Los Angeles, CA, and Miami, FL. View our current openings here and apply today!