Institute for Supply Management (ISM) Manufacturing Report on Business:
Economic activity in the manufacturing sector bounced back in June.
50 represents the dividing line between expansion and contraction for the index of the below chart; which covers the Purchasing Managers Index (PMI) and new orders.
The PMI reading increased to 50.9 in June, from a low in May of 49.0; this is back above the expansion level.
New Orders decreased in June by 3.1% to reach 51.9 on the index.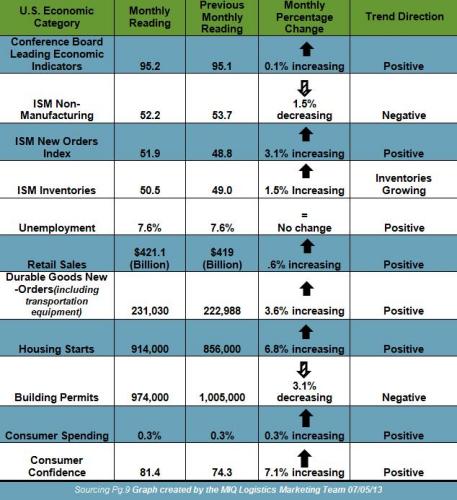 Expanding Manufacturing Industries
Furniture & Related Products
Apparel, Leather & Allied Products
Paper Products
Electrical Equipment Appliances & Components
Petroleum & Coal Products
Wood Products
Food, Beverage & Tobacco Products
Primary Metals
Fabricated Metal Products
Plastics & Rubber Products
Machinery
Nonmetallic Mineral Products
Contracting Manufacturing Industries
Textile Mills
Transportation Equipment
Chemical Products
Computer & Electronic Products
---
Transportation Market Update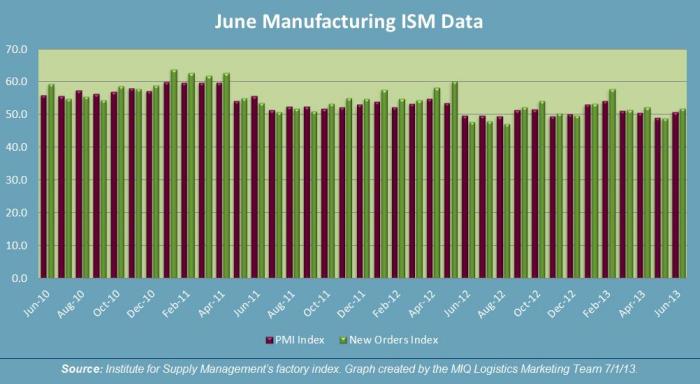 American Trucking Association:
"After bouncing around in a fairly tight band during the previous three months, tonnage skyrocketed in May," ATA Chief Economist Bob Costello said. Some of the increase is attributable to factory output rising in May for the first time since February (+0.2%) and retail sales performing stronger than expected in May (+0.6%). Costello added, "The 6.8% surge in new housing starts during May obviously pushed tonnage up as home construction generates a significant amount of truck tonnage."

---
U.S. Import Container Forecast:
Latest Report from Global Port Tracker shows a 1.2% YOY gain for the first six months of 2013:
May which was the last month for which Global Port Tracker has confirmed data; shows that 1.38 million TEU were imported into the U.S.  This figure is up 1.2% month-over-month increase, and a 0.6% YOY increase.
June is now forecasted to come in at 1.37 million TEU, which would be a 0.7% decrease YOY.
"With the economy recovering slowly, retailers have been cautious with imports this summer but it's clear that they expect an upturn later in the year," – Jonathan Gold (NRF Vice President for Supply Chain and Customs Policy".
---
Global Market Update
Carriers announced Peak Season Levls for Aug 1st for Transpacific Eastbound Lanes. The majority of carriers have announced the following:
Peak Season Surcharge 

| | | | | |
| --- | --- | --- | --- | --- |
| TPEB | 20′ | 40′ | 40′ HC | 45′ |
| ALL | $320.00 | $400.00 | $450.00 | $506.00 |
3Q13 BAF Levls

| | 20′ | 40′ | 40′ HC | 45′ |
| --- | --- | --- | --- | --- |
| West Coast Ports | $422 | $527 | $593 | $667 |
| Long-Haul IPI | $713 | $891 | $1,002 | $1,128 |
| East Coast Ports | $784 | $980 | $1,103 | $1,241 |
---
SOURCES
Domestic & Global Economy
Truckload Capacity & Volumes:
  Global Market Update: