During the month of July, 2021, Noatum Logistics was involved in a number of events throughout the logistics industry.  Read about industry updates, regulatory updates and announcements in the July 2021 Logistics Link.
Regulatory Updates
Due to the ongoing extreme congestion, as well as the lack of chassis, both major railroads serving the Midwest have now made the decision to temporarily suspend acceptance of ocean containers to Chicago. Read more
August will be the 11th straight month the USA has been grappling with peak season ocean market conditions induced by the COVID-19 pandemic and corresponding V-shaped recovery. Read more
On Tuesday, July 13, 2021, a 36 page Joint Xinjiang Supply Chain Advisory was published by the Department of State, Department of Treasury, Department of Commerce, Department of Homeland Security, United States Trade Representatives and the Department of Labor. Read more
Per an article released by the Journal of Commerce Online today, July 15, the Union Pacific Railroad (UP) will stop all international intermodal service from the West Coast to its Global IV terminal in Joliet, Illinois, for up to seven days beginning early Monday. Read more
On Tuesday, July 6, 2021, the Court of International Trade (CIT) delivered a small "win" for the plaintiff importers in the Section 301 China list 3 and 4A case before the court. In the fifty (50) page two-to-one split decision ruling, CIT granted a preliminary injunction to suspend the liquidation of unliquidated import entries subject to Lists 3 and 4A duties subject to the Section 301 litigation. Read more
Following nearly two years of increased duties/tariffs related to many retaliatory programs, aimed at unfair trade practices, as well as escalating costs via air, ocean rail and truck many importers are seeing an ever-increasing hit to their cash reserves. Read more
Industry News
Imports at the nation's largest retail container ports are continuing to show double-digit growth over last year as strong consumer demand keeps up its momentum, according to the monthly Global Port Tracker report released today by the National Retail Federation and Hackett Associates. Read more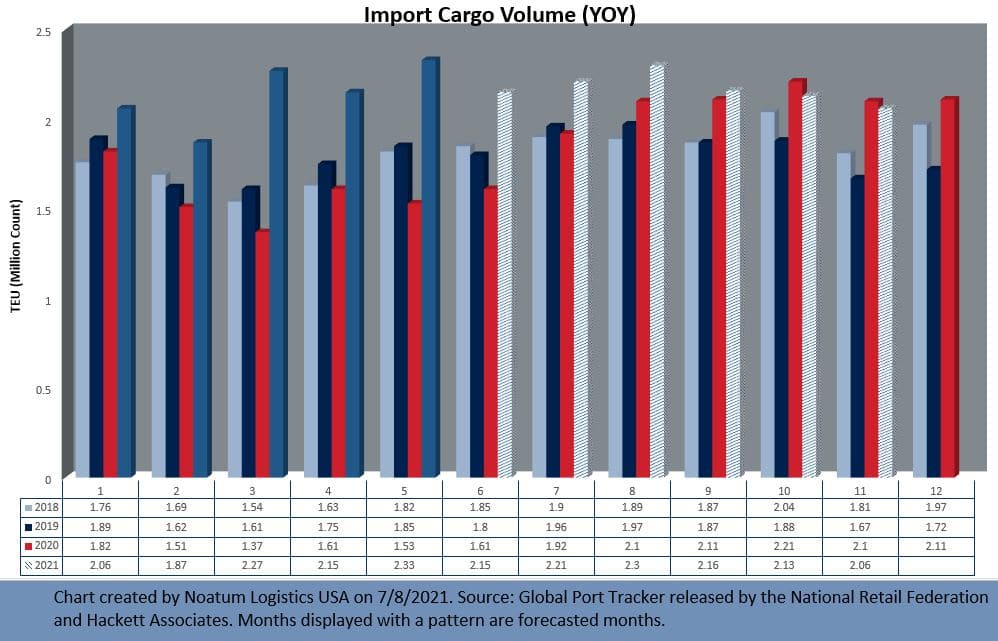 Announced levels for upcoming Transpacific Eastbound GRIs and PSSs from carriers can now be accessed anytime from our MIQ.com – Resources – Information and Tools page. Read more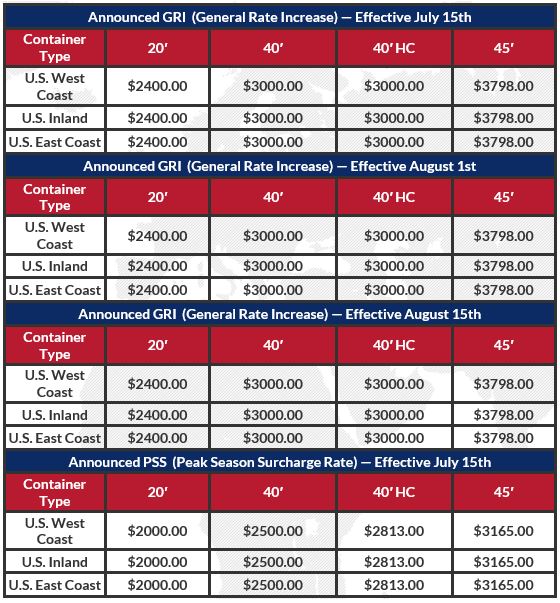 Careers at Noatum Logistics USA
It is an excellent time to consider a career at Noatum Logistics USA!  As a multi-faceted worldwide organization, Noatum Logistics USA offers a variety of opportunities for our employees around the globe. Our employees, a true competitive advantage, make a difference for our customers every day.
Noatum Logistics, a leading player in the global logistics industry, currently has openings in the following U.S. locations: Buffalo, NY, Chicago, IL, Houston, TX, Jamaica, NY, Los Angeles, CA, Miami, FL, and Overland Park, KS View our current openings here and apply today!