Economic Update
"May's increase in the LEI, the fourth consecutive one, was broad based," said Ataman Ozyildirim, Economist at The Conference Board. "Housing permits held the index back slightly but the LEI still points to an expanding economy and its pace may even pick up in the second half of the year."
"Recent data suggest the economy is finally moving up from a 2 percent growth trend to a more robust expansion," said Ken Goldstein, Economist at The Conference Board. "The CEI shows the pace of economic activity continued to gain traction in May, while the trend in the LEI remains positive. Going forward, the biggest challenge is to sustain the rise in income growth which will drive consumption."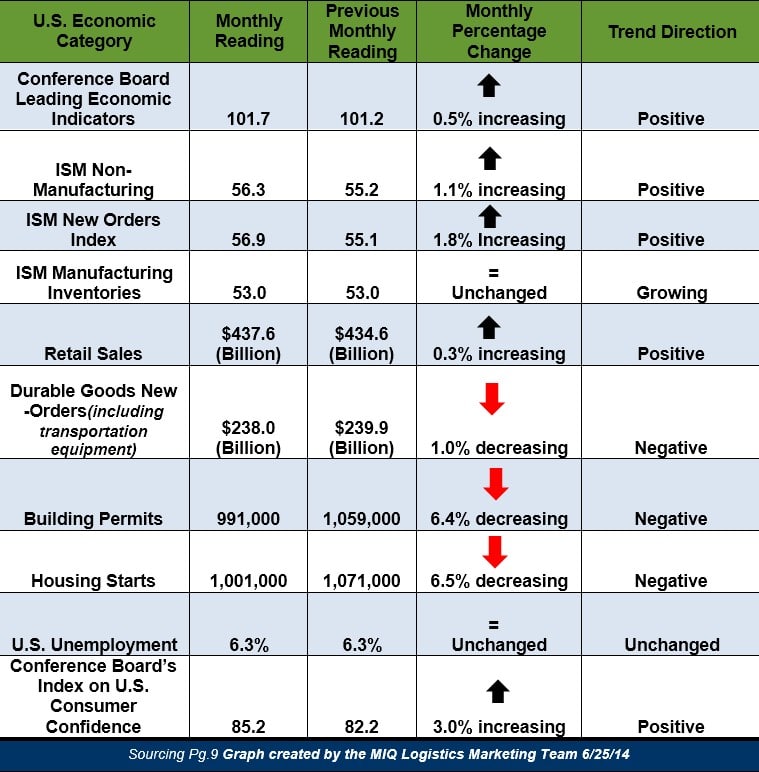 Institute for Supply Management (ISM) Manufacturing Report on Business
Economic activity in May shows that the manufacturing sector grew for the 12th consecutive month:
50 represents the dividing line between expansion and contraction for the index of the below chart; which covers the Purchasing Managers Index (PMI) and new orders.
The PMI reading registered 55.4% in May, which is an increase of 0.5% from April.
New Orders Index registered 56.9% in May, which is an increase of 1.8% from April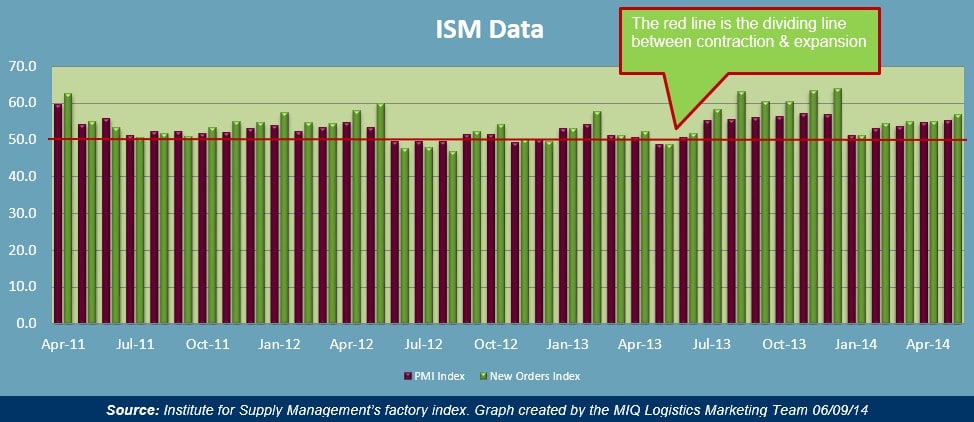 Expanding Manufacturing Industries 
Furniture & Related Product
Electrical Equipment, Appliances & Component
Primary Metals
Fbricated Metal Products
Nonmetallic Mineral Products
Machinery
Transportation Equipment
Chemical Products
Paper Products
Computer & Electronic Products
Petroleum & Coal Products
Apparel, Leather & Allied Products
Printing & Related Support Activities
Food, Beverage & Tobacco Products
Wood Products
Miscellaneous Manufacturing
Plastics & Rubber Products
Contracting Manufacturing Industries
No industry reported contraction in May.
---
Transportation Market Update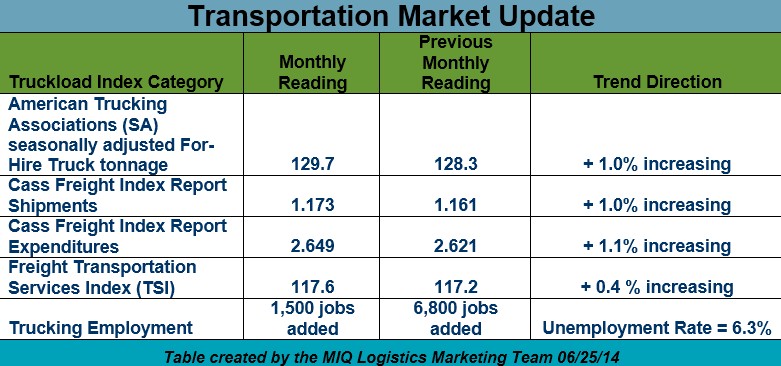 "I'm pleased at the direction of freight, highlighted by May's fourth consecutive gain in tonnage totaling 4.5%," said ATA Chief Economist Bob Costello. "While the year-to-date improvement is running behind last year's robust 6.3% increase, gains this year are more broad-based," he said. "It isn't just heavy freight for sectors like tank truck and flatbed from energy and housing that are improving this year. Now, generic dry van trailer freight is doing better as well, which wasn't the case in 2013. This is a good sign for the economy."
"May shipment volumes rose 1.0 percent to the highest level since October 2011. This was the fourth month in a row that the number of shipments increased. May shipments were 3.6 percent higher than a year ago and 26.4 percent higher than shipment levels at the end of the 2009 recession.  Capacity problems are being experienced in both the trucking and rail industries as volumes grow. The impact of productivity-reducing truck regulations has exacerbated the driver shortage, further limiting capacity despite the strong growth in the size of the truck fleet in 2014".  – www.cassinfo.com  
---
Global Market Update
Recent updates from the Port Tracker report by the National Retail Federation and Hackett Associates
In the month of April, U.S. imported TEU's hit 1.43 million, which is up 10.3% annually. May is forecasted to hit 1.47 million TEU which would be a 5.8% increase.
"The report observed that a projected 7.5 percent annual gain in June volumes could occur due to retailers bringing in higher than usual amounts of merchandise in an effort to avoid any issues related to the ILWU and PMA negotiations, especially in the event that negotiations extend past June 30."
"July, August, and September are expected to come in at 1.51 million TEU, 1.52 million TEU, and 1.45 million TEU for respective annual increases of 4.4 percent, 1.9 percent, and 0.8 percent. Port Tracker said the first half of 2014 is pegged at 8.3 million TEU for a 6.5 percent annual gain".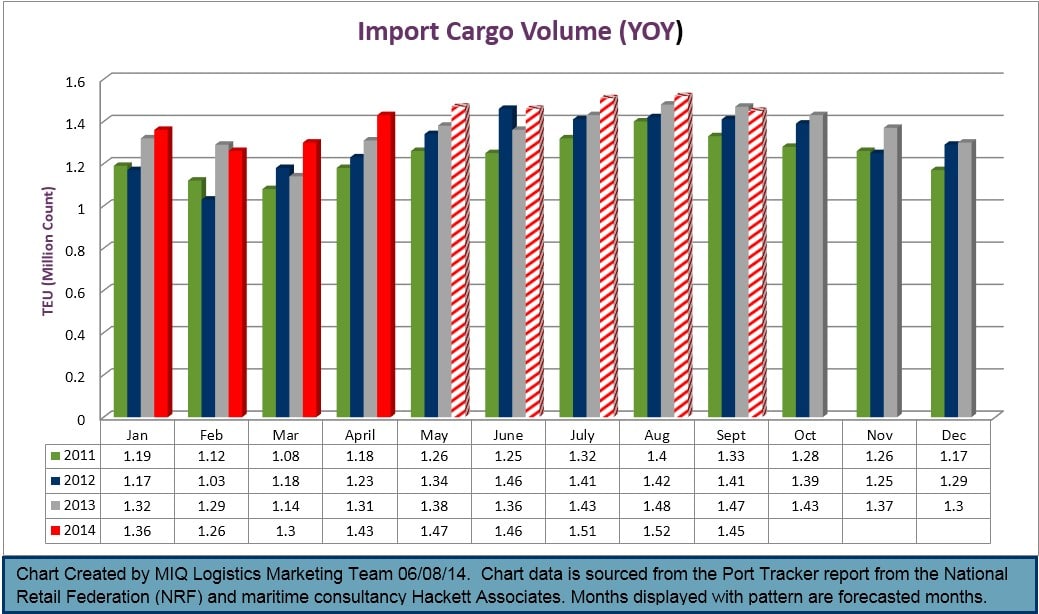 Transpacific Eastbound Peak Season Surcharge (PSS) and Bunker Fuel Adjustments
The 6/15/14 Peak Season Surcharge (PSS) was postponed until 7/01/14. The announced levels from the carriers are listed below.
Global Regulation Updates
Two Key Trade Bills unlikely to be brought up for a vote in Congress until the lame duck session after the November 4 mid-term elections.
MISCELLANEOUS TARIFF BILL
National Association of Manufacturers together with other manufacturing groups lobbied Congress on June 17 hoping to spur movement on the stalled miscellaneous tariff bill (MTB).
Miscellaneous tariff bills (MTBs) request the temporary reduction or suspension of duties on certain U.S. imports or request other technical corrections to the U.S. Harmonized Tariff System.
The primary purpose of such bills is to help U.S. manufacturers compete at home and abroad by temporarily suspending or reducing duties on intermediate products or materials that are not made domestically, or where there is no domestic opposition. Such reductions or suspensions reduce costs for U.S. businesses and ultimately increase the competitiveness of their products.
The bill has faced objections from Senate Republicans, who say that it constitutes an earmark, a characterization which House Republicans and Democrats dispute.
GSP RENEWAL
Renewal of the Generalized System of Preferences (GSP) is also caught up in Washington Gridlock Politics.  GSP is a program providing non-reciprocal concessions under which the US permits duty-free or low-duty entry to imports from selected developing countries up to a certain limit.   Statutory authority for the GSP program expired on July 31, 2013 requiring importers to pay the higher column 1 (normal trade relations) rate of duty until Congress renews the program.
The GSP bill faces a problem over what funds will be used to offset the cost of eliminating tariffs on covered products, largely due to opposition by Sen. Tom Coburn (R-OK).
Additionally, there is no sense of when GSP is renewed, whether it will be retroactive, as in the past.  CBP issued a release on June 9 that explains, assuming that the goods were properly classified and appraised, the entry summaries must be liquidated as scheduled and noted that "CBP does not have the legal authority to further extend liquidation pending possible renewal of GSP."
Update On ILWU – PMA Negotiations
In follow up to MIQ's Trade Alert of May 27, 2014; the PMA / ILWU the current labor contract is set to expire on June 30, 2014.  No one expects a renewed contract agreement prior to June 30.  It is important to note that from the beginning of the contract talks on May 12, 2014, BOTH sides have said that they are committed to reaching an agreement without any labor disruption.  So unified have they been on this message, when there was a rumor that the talks had broken down on June 4, 2014 a joint press release was immediately issued reaffirming their mutual commitment to working through an agreement without any labor disruptions.
Although no one can predict with 100% certainty what will happen in the future, all signs continue to indicate any imminent strike or lockout is unlikely on the US West Coast.  Small and limited disruptions (at one or two terminals, for one or two 8 hours shifts) may occur.  That being said the contract talks in conjunction with other seasonal factors are currently causing congestion and delays of three to four days in LA/LB ports.
Vacations;  Many regular (Class A) ILWU members are taking their Summer vacations and the replacement workers (Class B) ILWU longshoremen are not as experienced, competent and efficient.
May & June have seen record volumes in LA/LB and the sheer volumes shipped to arrive prior to the expiration of the contract (to avoid getting caught in any potential labor disruption) are causing equipment shortages and congestion delays.
These delays will likely grow in the next week as the National July 4th holiday and the ILWU no work holiday of July 5th (Bloody Thursday) contribute to the current delays, culminating during week #28.  Most continue to believe that the ILWU / PMA will reach a formal agreement in week #29 or 30.
---
 Sources
Domestic & Global Economy
 Truckload Capacity & Volumes
 Global Market Update
 Global Regulation Updates