Overland Park, Kan., July 1, 2014 – For the fourth consecutive year, Ingram's business magazine named MIQ Logistics as one of the Kansas City area's top 100 privately-held companies.  MIQ Logistics consistently has placed in the upper 40 percent in the publication's annual survey of revenue, headcount and number of locations.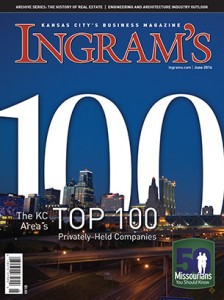 "Our logistics professionals have the expertise and tools to create value for customers," explains John Carr, president and chief executive officer, MIQ Logistics. "With access to timely and accurate supply chain information, our customers gain better control over purchase-order planning, transportation, and distribution operations. As a result, customers typically enjoy bottom-line savings and the ability to deliver better customer service."
MIQ Logistics operates globally with 70 offices in 20 countries, and a network of agents. Its service portfolio features global services, project logistics, transportation management and truckload brokerage services. With over 200 employees in the Kansas City area, the company is committed to being active in the local community and a good corporate citizen.
About MIQ Logistics
MIQ Logistics is a global logistics company headquartered in Overland Park, Kan., and with offices in North America, Asia, Europe and Latin America. MIQ Logistics enables companies to improve their transportation network and overall supply chain efficiency by offering flexible logistics solutions supported by Web-native technology and global logistics management capabilities.
For more information:
Christa Lander
MIQ Logistics
913-696-7371
Christa.Lander@miq.com