Overland Park, KS, November 19, 2013—For the third consecutive year, Inbound Logistics (IL) magazine named MIQ Logistics to its list of Top 100 3PL Providers.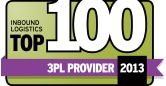 "Tactical operational results are fundamental to 3PL value, but so is the strategic vision of experienced logistics providers," says Felecia Stratton, editor, Inbound Logistics. "IL readers say they appreciate 3PLs that are consultative, proactive, take the lead in sharing best supply chain practices, and help to drive enterprise business process improvement. Because MIQ Logistics demonstrates that kind of supply chain expertise and vision, Inbound Logistics editors are pleased to recognize the company as a 2013 Top 100 3PL Provider."
"We are honored to be included once again in this prestigious list of logistics management service providers," says John Carr, president and chief executive officer, MIQ Logistics. "As global markets evolve and technologies emerge, MIQ Logistics continues to invest in the people and processes that enable us to consistently deliver high-quality, scalable service to our customers."
Each year, Inbound Logistics editors select the best logistics solutions providers by carefully evaluating submitted information, conducting personal interviews and online research, and comparing that data to our readers' burgeoning global supply chain and logistics challenges. IL editors selected this year's class of Top 100 3PLs from a pool of more than 300 companies. The service providers selected are companies that, in the opinion of IL editors, offer the diverse operational capabilities and experience to meet readers' unique supply chain and logistics needs.
About Inbound Logistics
Inbound Logisticsis the leading trade magazine targeted toward business logistics and supply chain managers. The magazine's editorial mission is to help companies of all sizes better manage corporate resources by speeding and reducing inventory and supporting infrastructure, and better matching demand signals to supply lines. More information is available at www.inboundlogistics.com.
About MIQ Logistics
MIQ Logistics is a global logistics company headquartered in Overland Park, Kan., and with offices in North America, Asia, Europe and Latin America. MIQ Logistics enables companies to improve their transportation network and overall supply chain efficiency by offering flexible logistics solutions supported by Web-native technology and global logistics management capabilities.
For more information:
Christa Lander
MIQ Logistics
Phone: 913-696-7371
Email: Christa.Lander@miq.com