"Despite The U.S. LEI increased sharply in February, suggesting that any weather-related volatility will be short lived and the economy should continue to improve into the second half of the year," said Ataman Ozyildirim, Economist at The Conference Board. "The strengths and weaknesses in the LEI were balanced in February, with large increases in housing permits and the interest rate spread more than offsetting decreases in the workweek in manufacturing, consumer expectations and rising initial claims for unemployment insurance."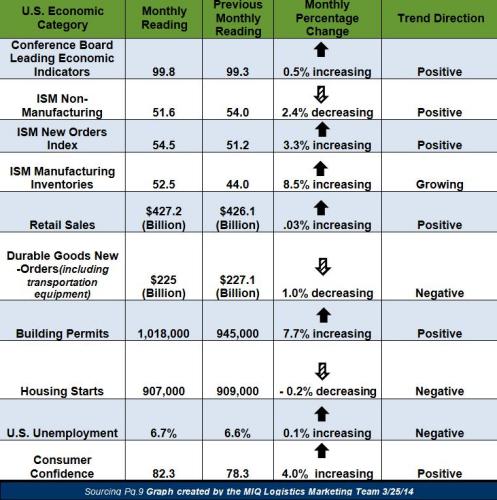 Institute for Supply Management (ISM) Manufacturing Report on Business
Economic activity in the manufacturing sector remained in expansion in February
50 represents the dividing line between expansion and contraction for the index of the below chart; which covers the Purchasing Managers Index (PMI) and new orders.
The PMI registered 53.2% in February, which was 1.9% higher than January's reading.
New Orders increased in February by 3.3%.
Expanding Manufacturing Industries
Textile Mills
Wood Products
Machinery
Printing & Related Support Activities
Plastics & Rubber Products
Transportation Equipment
Paper Products
Food, Beverage & Tobacco Products
Electrical Equipment, Appliances & Components
Fabricated Metal Products
Furniture & Related Products
Primary Metals
Chemical Manufacturing
Contracting Manufacturing Industries
Apparel, Leather & Allied Products
Petroleum & Coal Products
Miscellaneous Manufacturing
---
Transportation Market Update
Truckload Index Category
Monthly Reading
Previous Monthly Reading
Trend Direction
American Trucking Associations (SA) seasonally adjusted For-Hire Truck Tonnage
127.6
124.1
+ 2.8% Increasing
Cass Freight Index Report Shipments
1.073
1.000
+ 7.3% Increasing
Cass Freight Index Report Expenditures
2.419
2.265
+ 6.8% Increasing
Freight Transportation Services Index (TSI)
113.6
116.8
– 2.8 Decreasing
Trucking Employment
0
+ 3,100 jobs
No Change
NAFTA Statistics for August
57.2% of the $90.1 Billion of U.S. – NAFTA trade was transported by truck in December; this is up 7.2% YOY
"The index for each freight mode declined in January with the largest decline in trucking. These declines took place during a period of severe winter weather, which particularly hit the heavily populated parts of the country. Severe weather can affect the demand for goods to ship as well as the ability to move goods. The decline in freight TSI took place despite increases in employment and personal income in January. The Federal Reserve Board Industrial Production Index declined in January, with the Construction sector leading the decline." – Bureau of Transportation Statistics
"It is pretty clear that winter weather had a negative impact on truck tonnage during February," said ATA Chief Economist Bob Costello. "However, the impact wasn't as bad as in January because of the backlog in freight due to the number of storms that hit over the January and February period."
---
Global Market Update
Recent Updates from National Retail Federation and Hackett Associates
U.S. ports followed by Global Port Tracker handled 1.36 million TEUs in January, which was up 4.1% YOY from January 2013.
"Retailers are bouncing back from the annual post-holiday slowdown and getting ready for the surge in activity that comes each year as the weather warms up" Vice President for Supply Chain and Customs Policy Jonathan Gold said."
While February is expected to witness 1.17 million TEU hitting U.S. ports, the month of March is forecast to hit 1.28 million followed by April at 1.36 million.
As of March, the forecast for imported TEU's to the U.S. during the first two quarters of 2013 will be approximately 8 million; if this forecast holds true it would be a 3.5% YOY increase.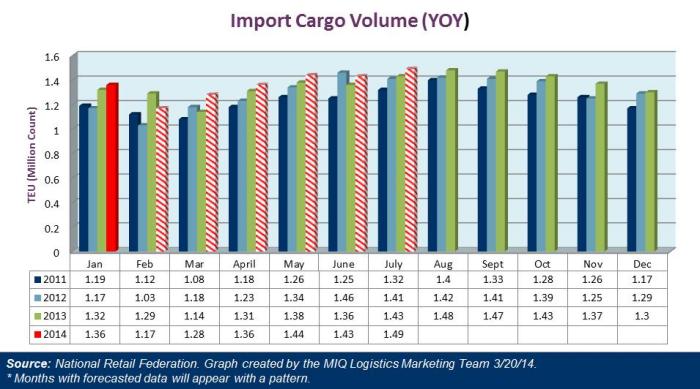 Transpacific Eastbound
*NOTE: The ocean carriers have announced their next round of GRI's for 4/15/15.
With the implementation of a mid-April GRI, there is the potential for a manufactured peak in the weeks leading up to April 15th.
Transpacific Eastbound contracts run May 1st – April 30th.  In regards to a 5/1/14 GRI, speculation is that the GRI levels will be the same as the April 15th GRI which is listed below.  May 1 GRI levels will be announced by April 1st.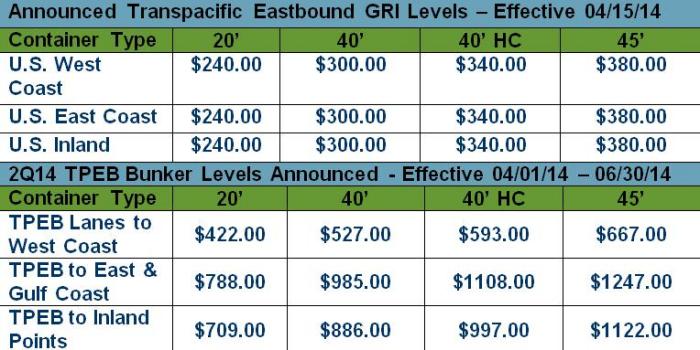 ---
SOURCES
Domestic & Global Economy
Truckload Capacity & Volumes
Global Market Update