During the month of March, 2021, Noatum Logistics was involved in a number of events throughout the logistics industry.  Read about industry updates, regulatory updates and announcements in the March 2021 Logistics Link.
Regulatory Updates
On Friday, March 26, 2021, the United States Trade Representative (USTR) office announced in a press release the Next Steps of Section 301 Digital Service Tax (DST) Investigations for Austria, India, Italy, Spain, Turkey, and the United Kingdom. Read more.
On Monday, March 29, 2021, the United States Trade Representative (USTR) Katherine Tai announced that the USTR would Suspend Trade Engagement with Burma following Military Coup and Violence against Civilians.  Read more.
On Monday, March 29, 2021, upon request from the Department of Commerce (DOC), U.S. Customs and Border Protection issued CSMS Message #46800973 delaying the effective date of the Aluminum Import (AIM) license requirement until June 28, 2021. Read more.
Inchcape Shipping Services has announced that the container ship blocking the Suez Canal has been refloated as of early this morning, Monday, March 29. The good news has also been confirmed by Osama Rabie, head of the Suez Canal Authority, according to his statement with state TV, published by CNN. Read more.
As is widely reported in the Global media, the very large container ship "Ever Given" was grounded during transit in the Suez Canal on Tuesday, March 23, completely blocking the canal for the passage of other vessels. Read more.
U.S. Customs and Border Protection (CBP) continues to be actively engaged in enforcement of importer compliance with all applicable import rules and regulations. Read more.
Please be advised that several carriers have announced significant increases to their FAK levels from North Europe to the USA. These changes will affect current tariff rates. Impact on contract rates is not clear, and would likely not be as severe, but the market will definitely support some increases. Read more.
On Wednesday, March 10, 2021, the United States Trade Representative Office (USTR) announced in Federal Register Notice 86 No 45 FR 13785 that the Section 301 exclusions for Covid-19 related medical supplies, originally scheduled to expire on March 31, 2021, would be extended through September 30, 2021. Read more.
In joint statements on March 4 and March 5, 2021, the United States, United Kingdom, and European Union all agreed to a four-month mutual suspension of tariffs related to the World Trade Organization (WTO) aircraft dispute. Read more.
The erosion of ocean carrier schedule reliability is one of the glaring by-products of the pandemic induced port congestion. In January, global container vessel schedule reliability fell to 34.9%, the lowest ever recorded, and down 33.5% year over year. Read more.
On Monday, March 1, 2021, the United States Trade Representative (USTR) office released President Biden's 2021 Trade Agenda and 2020 Annual Report. Read more.
The Generalized System of Preferences Program (GSP) expired on December 31, 2020, as Congress failed to reach a deal before the end of the year that would have extended the GSP program. Read more.
Industry News
Imports at the nation's largest retail container ports are expected to grow dramatically during the first half of 2021 as increased vaccination and continued in-store safety measures enable additional shopping options, according to the monthly Global Port Tracker report released today by the National Retail Federation and Hackett Associates. Read more.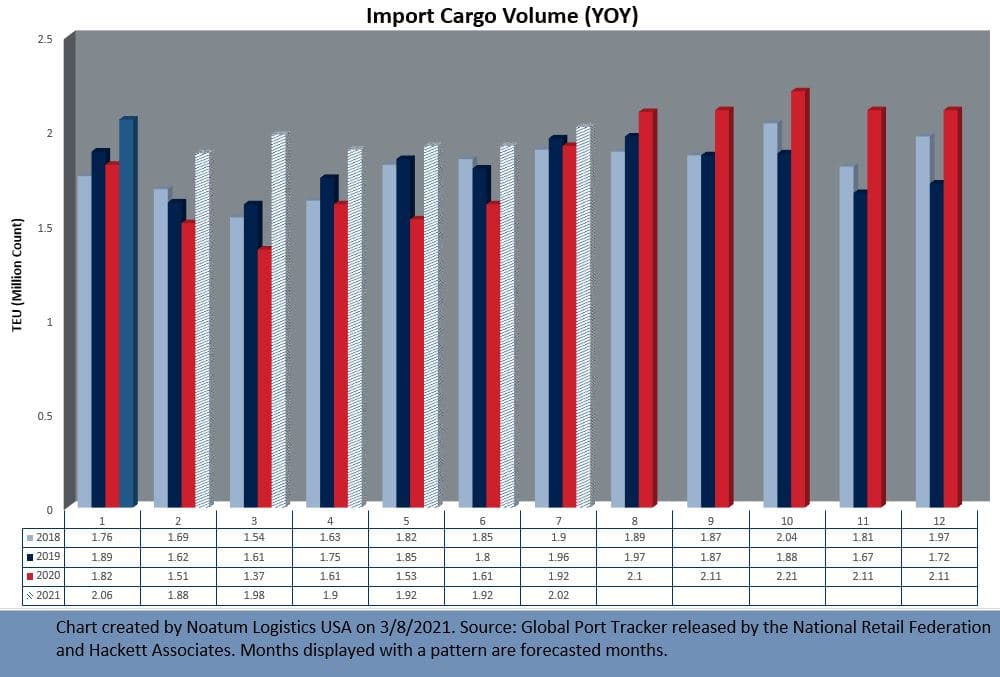 Announced levels for upcoming Transpacific Eastbound GRIs and PSSs from carriers can now be accessed anytime from our MIQ.com – Resources – Information and Tools page. Read more.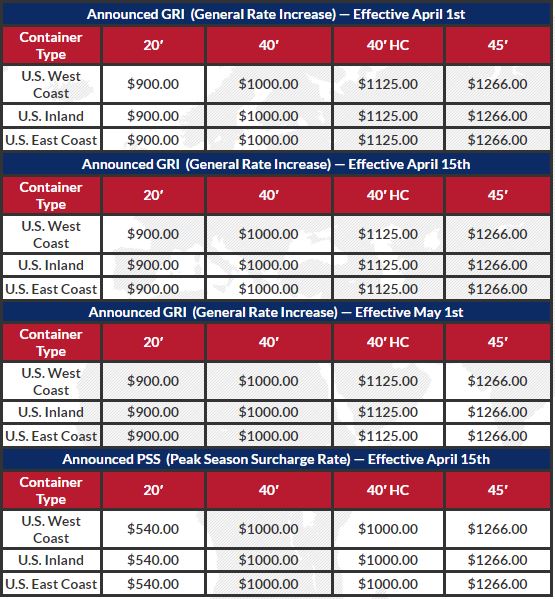 Careers at Noatum Logistics USA
It is an excellent time to consider a career at Noatum Logistics USA!  As a multi-faceted worldwide organization, Noatum Logistics USA offers a variety of opportunities for our employees around the globe. Our employees, a true competitive advantage, make a difference for our customers every day.
Noatum Logistics, a leader in the global logistics industry, currently has openings in the following U.S. locations: Chicago, IL, Houston, TX, Los Angeles, CA, Miami, FL, and the New York/Northeast USA region. View our current openings here and apply today!