"The LEI rose for the third consecutive month, driven largely by improving housing and financial market conditions," said Ataman Ozyildirim, Economist at The Conference Board. "This latest report suggests the economy will continue to expand, and may even pick up steam through the second half of the year."  "Despite a brutal winter which brought the economy to a halt, the overall trend in the leading economic index has remained positive," said Ken Goldstein, Economist at The Conference Board. "If consumers continue to spend, and businesses pick up the pace of investment, the industrial core of the economy will benefit and GDP growth could move closer towards the 3 percent range."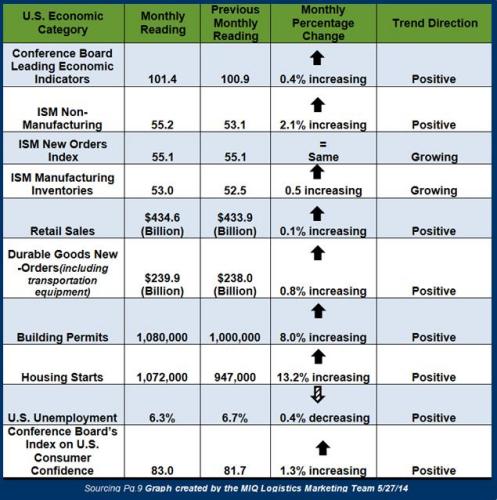 Institute for Supply Management (ISM) Manufacturing Report on Business
Economic activity in the manufacturing sector continued to climb in April
50 represents the dividing line between expansion and contraction for the index of the below chart; which covers the Purchasing Managers Index (PMI) and new orders.
The PMI registered 54.9% in April, which is an increase of 1.2% from March.
New Orders Index registered 55.1% in April, which was the same as the growth rate in March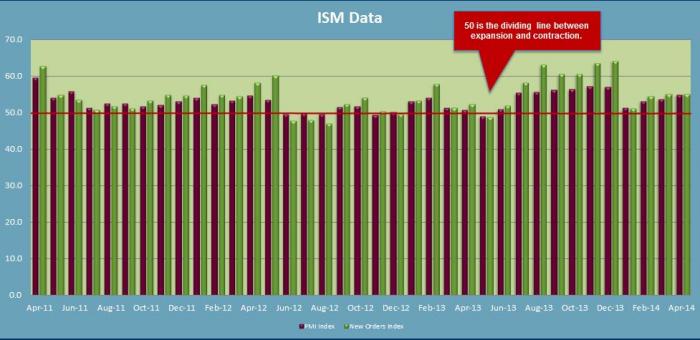 Expanding Manufacturing Industries 
Apparel, Leather & Allied Products
Primary Metals
Furniture & Related Products
Miscellaneous Manufacturing
Food, Beverage & Tobacco Products
Transportation Equipoment
Fabricated Metal Products
Machinery
Printing & Related Support Activities
Plastics & Rubber Products
Textile Mills
Chemical Products
Computer & Electronic Products
Wood Products
Paper Products
Petroleum & Coal Products
Electrical Equipment, Appliance & Components
Contracting Manufacturing Industries
Nonmetallic Mineral Products
---
Transportation Market Update
 

| | | | |
| --- | --- | --- | --- |
| Truckload Index Category | Monthly Reading | Previous Monthly Reading | Trend Direction |
| American Trucking Associations (SA) seasonally adjusted For-Hire Truck Tonnage | 129.1 | 127.6 | + 1.5 Increasing |
| Cass Freight Index Report Shipments | 1.161 | 1.144 | + 1.5 Increasing |
| Cass Freight Index Report Expenditures | 2.621 | 2.549 | + 2.8% Increasing |
| Freight Transportation Services Index (TSI) | 116.7 | 115.2 | + 1.6% Increasing |
| Trucking Employment | 6,800 jobs added | 3,300 jobs added | Unemployment Rate = 6.3% |
"The growth in trucking represented continued recovery from unusually severe winter weather that hampered freight shipments in earlier months," said BTS. "Severe weather can affect the demand for goods to ship as well as the ability to move goods. The decline in the Freight TSI in December and January and its rebound in the succeeding two months took place while GDP growth slowed to an annualized rate of 0.1 percent during the first quarter of 2014 from 2.6 percent in the fourth quarter of 2013, according to the U.S. Department of Commerce's Bureau of Economic Analysis."
"April was the third straight gain in tonnage totaling 4%," said ATA Chief Economist Bob Costello. Tonnage is off 1.4% from the all-time high in November. "I'm pleased that tonnage has been making solid progress after falling a total of 5.2% in December and January," he said. "And April's nice gain was better than the contraction in industrial production and the lackluster retail sales during the same month."
"Growth in employment and manufacturing in some key sectors such as construction and motor vehicles is an indicator that the economy is strengthening. The fast-paced freight expansion from the first quarter should settle into moderate growth in the second quarter." – www.cassinfo.com
---
Global Market Update
Recent Updates from National Retail Federation and Hackett Associates
U.S. ports followed by Global Port Tracker are forecasted to handle 1.44 million TEU for the month of May, and 1.43 million TEU for the month of June; this would be a 3.5% and 5.6% YOY increase respectively.
"Part of the inventories built up due to bad weather, with things not moving" said Hackett in an interview. "Personal consumption compared to income was also pretty flat, with people not buying at the same levels as usual, so the importers were sitting on more inventory than they usually would. And with rate negotiations now at an end, importers are bringing in cargo earlier rather than waiting, which is a reason inventory was going up. If we continue to see a rise in inventory after April, that would indicate something is wrong. It would be more of a problem for carriers, though, as vessels will not be as full as they would like them to be in June and July. But if inventory drops, it is a positive sign and says we are on the right track for continued growth." – Hackett Associates Founder Ben Hackett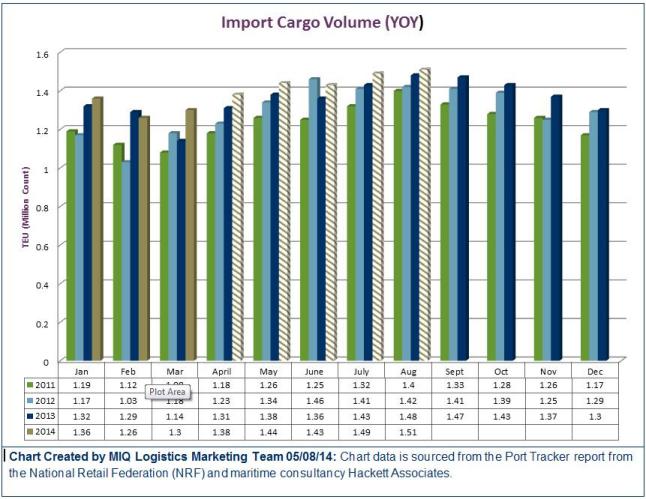 Transpacific Eastbound
The 5/1/14 GRI was postponed until 5/15/14, however it went through at mitigated levels. The original announced levels from the carriers are listed above.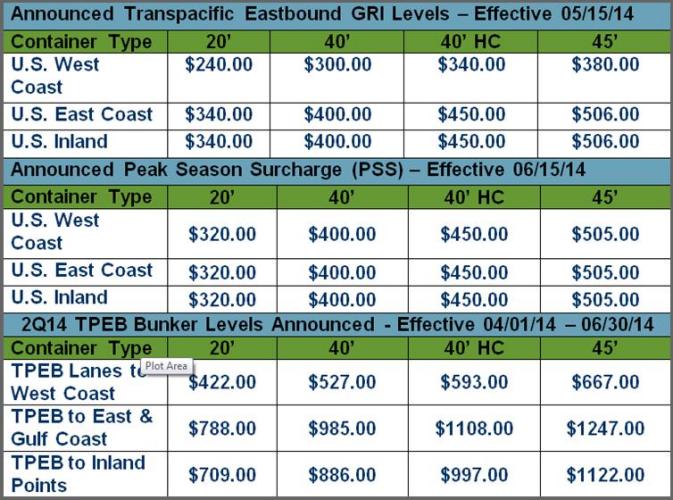 Global Regulation Updates
1.       Import Customs Violations: US Court of Appeals for the Federal Circuit (CAFC) in the case of Trek Leather Inc. et al. v. United States, will rehear the Government's contention that Corporate Officers and Shareholders can be held personally liable for customs violations.  The CAFC's decision will substantially affect CBP's enforcement posture for years to come.  In the interim, Corporate Importers may wish to consider providing indemnification agreements to Directors, Officers and Key Employees to minimize potential personal liability for actions taken in their corporate capacity that result in customs violations. Read more here.
2.       C-TPAT Container Seals Requirement: Effective May 15, 2014, a previously announced seal requirement will be required for securing the door locks of ocean shipping containers for C-TPAT participants. The standards for these new seals were established by the International Organization for Standardization (ISO) under protocol 17712. Read more here.
3.   The long-expired Generalized System of Preferences (GSP) may get a boost toward renewal driven by the push from the administration and Congress to support Ukraine at a time of crisis.  Several key US lawmakers are conferring with the White House to discuss reviving the lapsed Generalized System of Preferences (GSP) program in an effort to aid Ukraine. GSP, which expired on July 31, 2013, promotes economic growth in developing countries by providing duty-free entry for up to 5,000 products from 123 countries.  Legislation that would have extended the program before its expiration failed to clear the Senate Finance Committee last July when Sen. Tom Coburn (R-OK) objected to the pay-for provision of the bill.  Congress is working on an additional aid package for Ukraine, and there has been talk of renewing GSP benefits – for Ukraine and other eligible countries – in connection with that effort.  The Senate Finance Committee, which deals with trade issues, is reportedly discussing renewing the program, which lawmakers let expire at the end of last July after failing to find a way to pay for its extension. In the course of his appearance before the Ways and Means hearing on the President's trade policy agenda (see above, related article), U.S. Trade Representative Michael Froman said that renewal of the Generalized System of Preferences program "would benefit Ukraine immediately."  Read more here.
Update On ILWU – PMA Negotiations
May 12 the PMA (the negotiating body for the west coast marine terminal operators) and the ILWU (the west coast longshore union) began 2014 contract negotiations in San Francisco.  Each side has laid out their starting demands most of which will either be settled quickly or completely dismissed depending on merit by both parties.  The ILWU indicated that they want a two year contract while the PMA prefers a six year contract but have indicated they could concede to a minimum contract term of no less than three years.
The ILWU wants to maintain their current healthcare benefits however the "Cadillac tax" under Obamacare triggers an annual payment of $190 million on these benefits which neither side wants to absorb.  In addition the union is seeking increases in: pension benefits; assessment payments based on tonnage; hourly pay of $5.50 in year one and year two of the contract; an additional no work holiday; two additional vacation days each year; increased penalties to employers on violations of jurisdiction, coupled with a pay guarantee of 50 hours per week for Class A and 40 hours per week for Class B ILWU members.
The PMA is negotiating to reduce health care costs so to avoid the annual $190 million "Cadillac tax", impose financial penalties to the union for failure to follow existing jurisdiction rulings while limiting the expansion of the ILWU's claims for jurisdiction on jobs related to technology,  chassis repair, and the like. They are also pushing for increased productivity by increasing the work day to 9 hours from the current of 8 hours.
From the initial posturing, this could be a contentious contract negotiation and the lead negotiators from both sides predict that there will be no contract signed by expiration of the current contract on June 30, but both also expect a settlement by the middle of July.  Relatively minor (one or two shift) labor disruptions could occur, but neither side anticipates anything similar to the effects of the 2002 lockout.
---
Sources
Domestic & Global Economy
 Truckload Capacity & Volumes
Global Market Update
Global Regulation Updates