May shipment volume and payments have reached high points for 2015. Both indexes have been rising for the last four months after a dismal January due to bad weather and delays at West Coast ports.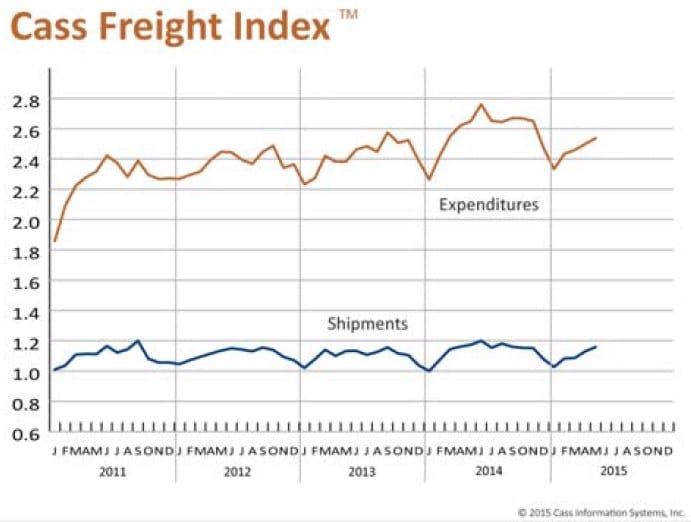 SHIPMENT VOLUMES
The number of shipments increased 2.3 percent in May, however they were still 1.3 percent lower than a year ago. 2014 was the best year for freight since the Great Recession, with the first six months of 2014 especially strong, which tends to dilute the performance of freight shipments for the first five months of 2015. The number of rail intermodal loadings surpassed the number of carloadings for the first time as coal, nonmetallic minerals, forest products and other carload commodities weakened in May. Carloadings and intermodal loadings were both declining by month's end, signaling a slowdown in June. Truck tonnage, which is published with a month lag, has seesawed in 2015, with April declining 3.7 percent. Industrial production has been inching down since the beginning of 2015, which has contributed to the softening freight market. The Institute for Supply Management's PMI declined in April, but was back up in May. More importantly, the New Orders Index rose 4.2 percent and the Backlog of Orders Index jumped 8.1 percent. Consumer confidence declined in April but rebounded in May. June is usually a slower month for freight, so it is too early to read anything long term into the numbers.
FREIGHT EXPENDITURES
Freight payments were up 1.5 percent in May, just slightly less than the April rise of 1.6 percent. Since the number of shipments increased more than payments, rates overall were flat. Compared to a year ago, total payments are down 4.2 percent, but are up 2.6 percent since the beginning of the year. Despite widespread reports of tightening capacity, rates remain stubbornly immovable.
OVERALL PICTURE
While 2015 opened with negative GDP growth, freight growth has been strong. Freight shipments are mirroring  the rise in 2014, without the spring stumbles we have experienced in previous years. The overall economy is taking more time to ratchet back up from the dismal start.
>> Click here to access the May edition of the Cass Freight Index Report.