Overland Park, KS, July 30, 2013

—
MIQ Logistics is pleased to announce its selection by SupplyChainBrain as a 2013 Great Supply Chain Partner in their annual compilation.  Now in its 11th year, the list of 100 Great Supply Chain Partners highlights a select list of companies whose solutions and services have been so impressive, that their customers took the time to nominate them for the prestigious list.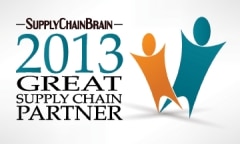 SupplyChainBrain received nominations for hundreds of trading partners in every aspect of supply chain management during our six-month on-line poll in which supply chain professionals were asked to nominate vendors and service providers whose solutions have made a significant impact on their company's efficiency, customer service and overall supply chain performance.
"MIQ Logistics will appear in the 2013 July/August issue of SupplyChainBrain magazine as a celebrated member of this year's 100 Great elite crew," Brad Berger, Publisher, SupplyChainBrain.
"We are pleased to be included on this esteemed list," says John Carr, president and chief operating officer.  "Our operations are focused on the global supply chain, which encompasses global, distribution and transportation services. Our broad portfolio of services, combined with a passion for customer service, understanding our customers' business and providing proactive solutions delivers significant results for our customersin locations around the world," adds Carr.
About SupplyChainBrain
SupplyChainBrain, the world's most comprehensive supply chain management information resource, is accessed year round through a wide range of ever evolving multi-media formats by hundreds of thousands of senior level industry executives. In addition to addressing the fundamental principles of supply-chain management, SupplyChainBrain identifies emerging trends, technologies and best practices, forward thinking ideas and cutting-edge solutions and continues to write and report about these as they evolve and mature.
About MIQ Logistics
MIQ Logistics is a global logistics company headquartered in Overland Park, Kan., and with offices in North America, Asia, Europe and Latin America.  MIQ Logistics enables companies to improve their transportation network and overall supply chain efficiency by offering flexible logistics solutions supported by Web-native technology and global logistics management capabilities.
For more information:
Christa Lander
MIQ Logistics
Phone: 913-696-7371
Email: Christa.Lander@miq.com