Overland Park, KS, September 20, 2011–MIQ Logistics proudly supported the Overland Park Fire Department with the transportation services needed to move a 14-foot, 2,000 pound steel beam from the Port of New York to the Kansas City suburb. The beam, one of the largest extracted from the World Trade Center destruction will be on display at the fire department's regional training center as part of a permanent memorial to the first responders in the September 11, 2001 attack.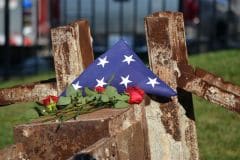 The project logistics for the move required urgency, security, and system wide coordination, as explained by John Carr, president and chief operating officer for MIQ Logistics. "We worked with a short window of time in which to obtain all the necessary permits for the move, line up equipment, assign a driver, and make the pickup at the port. The community was counting on us and there was no room for error."
For the physical move, Gilberto "Junior" Velazquez, an MIQ Logistics driver, quickly volunteered to drive the artifact across country. He vividly recalls ten years ago, delivering freight in Brooklyn, when the two towers collapsed. In addition, the MIQ geographic footprint ensured this treasured cargo was in a MIQ secured location each night that it was in transit.
"The steel beam has national significance, as well as local importance to our employees in New Jersey and Overland Park," adds Carr. "Now an artifact from that terrible day resides in the same community where MIQ Logistics maintains its world headquarters. As a company that values good citizenship, we were honored to donate our services to this project."
MIQ Logistics is a global logistics company headquartered in Overland Park, Kan., and with offices in North America, Asia, Europe and South America. MIQ Logistics enables companies to improve their transportation network and overall supply chain efficiency by offering flexible logistics solutions supported by Web-native technology and global logistics management capabilities.
For more information:
Christa Lander
MIQ Logistics
Phone: 913-696-7371
Email: Christa.Lander@miq.com