September 28, 2017 – The MIQ Logistics U.K. team and our customer (a leading global fashion brand) won the IBM Supply Chain Visibility Award at the Retail Week Supply Chain Awards 2017. This is the third consecutive year the MIQ Logistics U.K. team was nominated for the Retail Week Awards, and the second time they have won an award. Winners were selected at an awards ceremony at the Hilton Park Lane in London.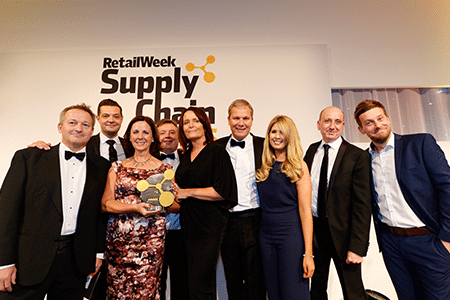 "Following our success earlier this year at the BIFA Freight Service Awards, this award is a marvelous repeat recognition of our teams' abilities to deliver on cutting-edge supply chain solutions," says Andy Martin, UK Managing Director for MIQ Logistics. "We are pleased to see our teams continue to incorporate numerous benefits delivered by our supply chain visibility tool, PowerView."
This award is given out to businesses that are able to effectively increase efficiencies across supply chain activities. By increasing efficiencies and visibility down the supply chain, MIQ Logistics has been able to drive down costs, ensuring a reliable flow of products to help retailers develop a competitive advantage. Through winning this award, MIQ Logistics U.K. team has been able to continue to deliver intelligent global solutions for its clients throughout Europe and around the world.

About MIQ Logistics
MIQ Logistics is a global logistics company headquartered in Overland Park, Kan., and with offices in North America, Asia, Europe and Latin America. The Europe team head office is in Egham, Surrey, United Kingdom. MIQ Logistics enables companies to improve their transportation network and overall supply chain efficiency by offering flexible logistics solutions supported by Web-native technology and global logistics management capabilities.