Overland Park, KS, August 14, 2012

—
For the second consecutive year, Inbound Logistics magazine named MIQ Logistics to its list of Top 100 3PL Providers.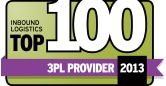 "We are pleased to once again be included on the publication's list of top 3PLs. We consider ourselves a serious competitor among the industry's biggest names, and the recognition by Inbound Logistics affirms it," says Joey Carnes, chairman and chief executive officer – MIQ Logistics.
"We started MIQ Logistics in 2010 with a team of dedicated and experienced logistics professionals focused on one thing: Creating value for our customers," Carnes adds. He explains that the approach at MIQ Logistics is to first gain an in-depth understanding of the customer's business, building the relationships that lead to intelligent solutions and continuous improvement. "Over and over, customers are finding this personal approach makes a difference in their business."
"One key driver in our selection process was how a logistics solutions provider creates value for its customers. In today's economic climate, 3PLs must produce direct savings for customers by optimizing transport networks, reducing inventory-to-sales ratios, or advancing the order-to-cash cycle. Inbound Logistics editors selected MIQ Logistics as a 2012 Top 100 3PL Provider because of its successful track record in satisfying customers' needs to cut total cost of logistics, while delivering the operational efficiency required to be globally competitive." says Felecia Stratton, editor, Inbound Logistics.
Each year, Inbound Logistics editors select the best logistics solutions providers by carefully evaluating submitted information, conducting personal interviews and online research, and comparing that data to its readers' burgeoning global supply chain and logistics challenges. The publication's editors selected this year's class of Top 100 3PLs from a pool of more than 300 companies. The service providers selected are companies that, in the opinion of IL editors, offer the diverse operational capabilities and experience to meet readers' unique supply chain and logistics needs.
About Inbound Logistics
Inbound Logistics is the leading trade magazine targeted toward business logistics and supply chain managers. The magazine's editorial mission is to help companies of all sizes better manage corporate resources by speeding and reducing inventory and supporting infrastructure, and better matching demand signals to supply lines. More information is available at www.inboundlogistics.com.
About MIQ Logistics
MIQ Logistics is a global logistics company headquartered in Overland Park, Kan., and with offices in North America, Asia, Europe and Latin America. MIQ Logistics enables companies to improve their transportation network and overall supply chain efficiency by offering flexible logistics solutions supported by Web-native technology and global logistics management capabilities.
For more information:
Christa Lander
MIQ Logistics
Phone: 913-696-7371
Email: christa.lander@miq.com