Overland Park, KS, December 19, 2012—MIQ Logistics is pleased to announce its selection by Transport Topics as a Top 50 Logistics Company for 2012. Transport Topics' Logistics 50 is an annual survey of the largest logistics companies covering freight management and forwarding, brokerage services and warehousing and distribution. Transport Topics accurately and objectively documents the size and scope of the largest operators in the United States and Canada and provides timely analysis of trends shaping the industry.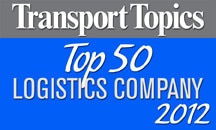 "We are pleased to once again be included on the publication's list of top 3PLs. We consider ourselves a serious competitor among the industry's biggest names, and the recognition by Transport Topics affirms it," says Joey Carnes, chairman and chief executive officer – MIQ Logistics. "Our broad portfolio of services, combined with teamwork and an in-depth understanding of our customers' business, deliver significant results for our customers around the world," adds Carnes.
More information on the selection process is available at http://www.ttnews.com.
About MIQ Logistics
MIQ Logistics is a global logistics company headquartered in Overland Park, Kan., and with offices in North America, Asia, Europe and Latin America. MIQ Logistics enables companies to improve their transportation network and overall supply chain efficiency by offering flexible logistics solutions supported by Web-native technology and global logistics management capabilities.
For more information:
Christa Lander
MIQ Logistics
Phone: 913-696-7371
Email: Christa.Lander@miq.com