Overland Park, KS, November 22, 2016 —John Carr, President and CEO of MIQ Logistics, was featured in Ingram's Magazine Listing of The 250 Most Powerful Business Leaders in the Kansas City Area. Each year, 250 leaders in business are selected out of the approximately 2.8 million people in the Greater Kansas City Metropolitan Area.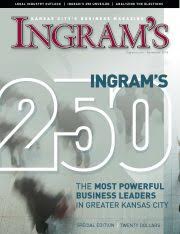 According to Carr, one of his most admired CEOs was Richard Yuengling Jr., due to the fact that he did not quit and looked to innovate, even against popular opinion. "Richard Yuengling Jr. is a great example of determination, perseverance, and not accepting the norm," says Carr. "He left the company for a period because of a difference opinion on direction but did not give up on his commitment to the brewery. He came back years later to lead it to tremendous growth."
In addition, John Carr also gives his best advice on how he succeeded in business, as well as how others, too, can continue to have great success. "My advice is to always work harder than those around you," says Carr. "However, I must also stress that it should not be to the detriment of your family. I truly value all the people in my life, and I give thanks to all those connections that I have made along the way."
Click here to read all the bios in Ingram's 250 list.
About Ingram's
Ingram's includes the online magazine for Ingram's Media and Ingram's Magazine, which is the top business publication in Kansas and Missouri. This online resource is the business community's gateway to news, features and business statistics relevant to every one of the seven diverse regions in Kansas and Missouri. Click here to learn more about Ingram's online magazine.
About MIQ Logistics
MIQ Logistics is a global logistics company headquartered in Overland Park, Kan., and with offices in North America, Asia, Europe and South America. MIQ Logistics enables companies to improve their transportation network and overall supply chain efficiency by offering flexible logistics solutions supported by Web-native technology and global logistics management capabilities.