With multiple fires actively being fought by firefighters in two counties near Los Angeles, MIQ Logistics wanted to notify our customers of the latest reports that are being released, and current impacts to road closures within the area.
The fires being discussed in the headlines currently are the Creek, Rye, Thomas and Skirball fires. Below is what we listed based on reports that we have gathered as of 11:45 a.m. (p.t.) on Dec 6th:
Skirball Fire: This fire was reported this morning along the 405 Freeway near Sepulveda pass, at this time it has grown to 150 acres with 0% containment.
Road closures due to Skirball Fire: According to CBS Los Angeles News, "The entire Sepulveda Pass, both north and southbound lanes of the 405 Freeway, was shut down just as the morning commute was gearing up between the 101 and the 10 Freeway."
Thomas Fire: Latest reports are that this fire has jumped Hwy 101 and has reached the beaches of Ventura with 0% containment.  As of this morning 65,000 acres have burned with 150 structures destroyed. Currently, 12,000 structures are being threatened, and more than 200,000 residents are under mandatory evacuation.
Road closures due to Thomas Fire: According to CBS Los Angeles News, Wells, Olive, Cummins, and Brigs at Foothill; Highway 150 at Santa Paula; Highway 33 north and south from Canada to Casita Springs and Stanley to Casita Springs; and Highway 33 at Nye Road."
This morning Governor Edmund G. Brown Jr. issued a state of emergency for Ventura county due to the effects of the Thomas Fire.  "This fire is very dangerous and spreading rapidly, but we'll continue to attack it with all we've got," said Governor Brown. "It's critical residents stay ready and evacuate immediately if told to do so."
Creek Fire: Currently, more than 100,000 residents of the San Fernando Valley are under mandatory evacuation, as the Creek fire continues to grow.  The fire started on Tuesday Dec 5th in the a.m. above Sylmar and has been fed by the Santa Ana winds. Reports are that this particular fire has already destroyed 30 homes and burned more than 11,377 acres.
Road closures due to Creek Fire:  Multiple exits along the 210 Freeway going into Sylmar, Pacoima, Shadow Hills as well as Sunland are closed, according to the California Highway Patrol.
Rye Fire: This fire was reported to be in Santa Clarita on Tuesday having burned more than 7,000 acres. As of Wednesday, the fire was reported to be 5% contained with approximately 2,000 residents evacuated.
Road closures due to Rye Fire: It was reported that the fire had temporarily shut down access to the 5 Freeway from Highway 126.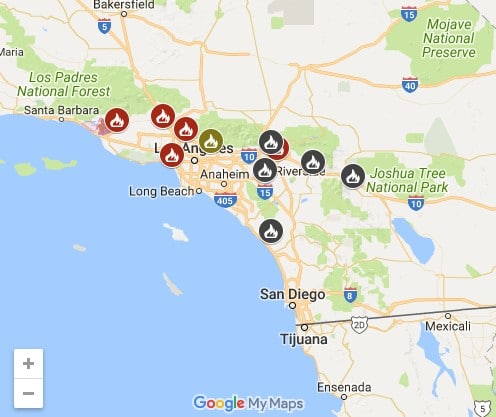 MIQ will continue to monitor the situation and provide additional updates as they are available. For more information, please contact your local MIQ Logistics representative.